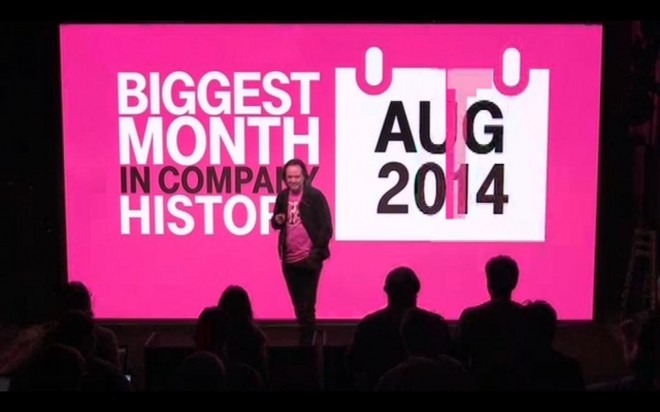 Having had such a good year in 2013, I wasn't all that optimistic about 2014. After all, following up an industry changing year with another is as difficult as releasing a great second album or movie sequel. I mean, you've all watched The Matrix Reloaded, right?
But, being the ever-persistent Un-carrier, T-Mo decided not to pay any attention to the script. Instead, its 2014 was so memorable I've virtually forgotten everything it did the year previous. In so many ways, 2014 was the best year the company has ever had.
.


Most Memorable moment(s)

1. John Legere at CES 

Legere is no stranger to controversy. Whether it's because he's constantly berating his competition on Twitter or using expletives during company announcements or interviews, he's never afraid of ruffling a few feathers. But one moment in particularly sticks in mind from earlier this year: CES and the AT&T after-party.

Back in January, T-Mobile was in Las Vegas for the Uncarrier 4.0 announcement. But, it just so happens that AT&T was also in town and that they had a show/party planned with one of Legere's favorite artists on stage. Macklemore was performing and our favorite company's CEO couldn't stay away. He "just wanted to see Macklemore." And – after sharing a selfie with CNET's Roger Cheng – promptly got asked to leave the party. Of course, AT&T believed he was there to cause a scene. John was there for the music (or so he says), but gladly accepted the extra media attention following his ousting from the show. It was almost enough to upstage Michael Bay's walk-off during the Samsung TV announcement.

2. BlackBerry fallout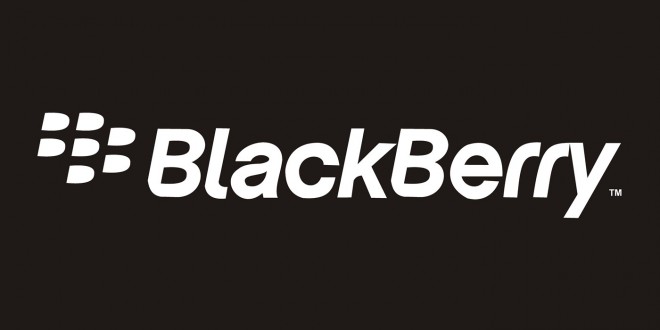 In my mind, the other big moment of the year was the public fallout with BlackBerry. And it all started with a fairly innocent offer to BlackBerry users. T-Mobile started sending out post cards offering BB users the chance to upgrade to an iPhone. Whether or not they knew how passionate BlackBerry fans are, and how strong a force they can be is unknown. But it caused a stir nonetheless. Shortly afterwards, John Chen – BlackBerry's new chief – reacted, calling the move "inappropriate and ill-conceived."
But that wasn't the end. T-Mobile decided to show its BlackBerry users "it still cared" by offering them a chance to trade-in their old BBerry for $200 if they upgraded to a new smartphone. They'd even get an extra $50 off if they chose to buy the Z10 or Q10. Turns out though, almost every one of the trade-in customers decided to opt for iOS or Android instead. 94% of trade-ins switched to a different platform.
And it wasn't along before BlackBerry and T-Mobile officially split. Their agreement ended, and T-Mo stopped selling the Canadian company's products.
Still, I can't help but feel that this is certainly a relationship to watch during 2015, following the BlackBerry mini-revival that seems to be happening right now. Its most recent devices – Classic and Passport – are promising productivity focussed devices for the enterprise market. Both will be sold by AT&T and Verizon.
.


5 Uncarrier Moves

It's hard to believe we had 5 major Uncarrier moves in one year. That's in addition to the awesome limited-time offers the company has launched.

Uncarrier 4.0 – ETF's paid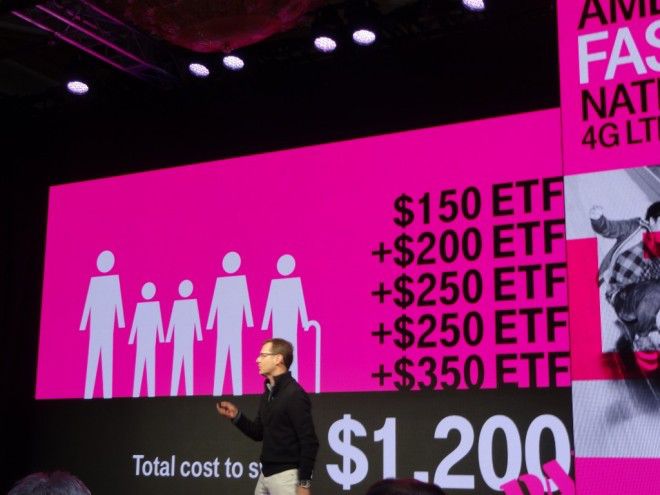 Before CES we'd been told be our sources that T-Mo was planning something pretty special for Uncarrier 4.0. Specifically, that T-Mobile was going to start offering a way out for customers trapped in contracts with the other carriers. Customers could get up to $350 to end their relationship with a competitor, plus up to another $300 for trading in their existing phone and porting their number across. It was a huge success and lead to one of T-Mobile's best financial quarters in history.
Uncarrier 5.0 – iPhone Test Drive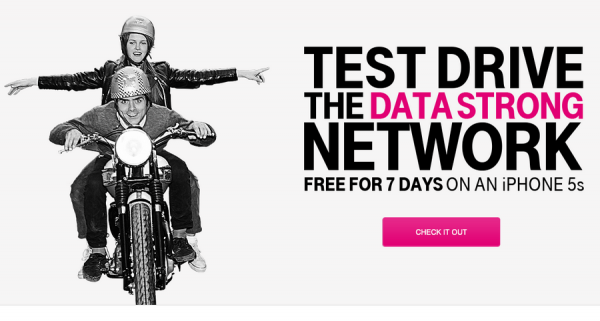 Uncarrier five was all about dealing with two misconceptions: That T-Mobile has terrible coverage and that T-Mo doesn't carry the iPhone. We haven't received any official figures (although I've asked more than once) on how many test drives there have been, or how many have converted in to customers, but it's a great offer nonetheless. Customers can try out an iPhone 5s on T-Mobile for 7 days – for free – to see how they perform in their area. If they don't get good coverage, they return the phone and that's the end of it. It has not cost them anything. But if they discover T-Mo's coverage is as good (or better) than their current provider, at least they know that T-Mobile is a viable alternative. And switching will more than likely save them money too.
Uncarrier 6.0 – Music Freedom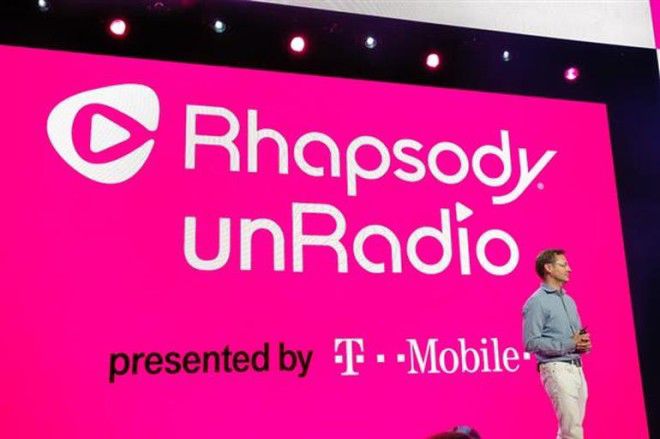 People love music. But in today's consumerist culture, no one really wants to pay for it. This attitude has seen a huge rise in the number of customers opting for streaming services like Spotify, Pandora and Beats Music (among many others). And while many are free, or offer great value subscriptions, they still use data. So T-Mobile – in its wisdom – decided to start white-listing music streaming services so that they didn't count against customer data allowances. And for its top-tier customers there was the option of using unRadio – a service created by T-Mo in partnership with Rhapsody – for free.
Uncarrier 7.0 – Wi-Fi Unleashed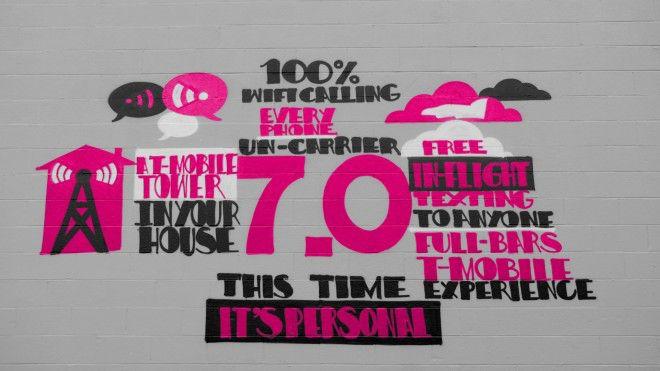 "This time it's personal". Running up to T-Mobile's Uncarrier 7.0 announcement we'd seen a few details on an unreleased 4G signal booster, and what we knew as a "Personal Cellspot". The latter of the two was of particular interest. It looked like an ASUS router with T-Mobile's branding on it. With the "Cellspot" branding, we put 2+2 together and unfortunately got 5. We assumed – wrongly – that it was a wireless router with a built-in microcell to provide great 4G signal throughout the house as well as being a great Wi-Fi router.
What T-Mobile actually released was an ASUS router optimized to prioritize its Wi-Fi calling and texting services. This ensured that customers could still use their phones even if there was little to no cellular signal in their houses. As well as offering the Cellspot for free (with deposit), T-Mo also announced a new international Wi-Fi calling service, and a partnership with GoGo for inflight texting. In the end, it doesn't matter where you are, even if you're in the sky, you can use T-Mo's service.
Uncarrier 8.0 – Data Stash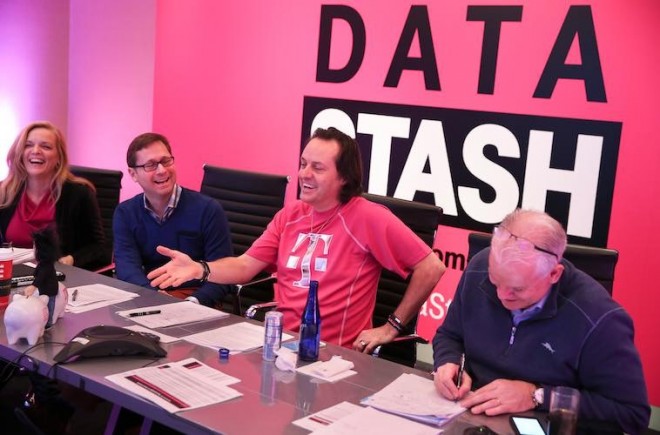 Data Stash, T-Mobile's fancy new name for data rollover. Uncarrier 8.0 was announced earlier this month. In short: T-Mobile customers on the right plan(s) can keep any data they don't use and stash it in a virtual "bank" for another time. Any data "Stashed" will stick for up to a year. What's more, T-Mo will help get you started with 10GB of data.
.


Network Engineering Wizards

I can't do a year-end review without mentioning T-Mobile's magical engineering team. Not only have these wizards been lighting up LTE in new areas – like Cincinnati – using the 1900MHz band, but they've also managed to get T-Mobile's faster wideband LTE up and running in 27 major markets including the Greater Bay Area, New York City, Dallas and Seattle among others.

T-Mo's also been on something of a spectrum spree, acquiring as much low-band spectrum as it can. So far it has deals in place (some complete, others pending) covering over 180 million POPs. And we've even seen evidence that its 700MHz band 12 network is already being deployed in a number of locations across the U.S.
.


Financial Performance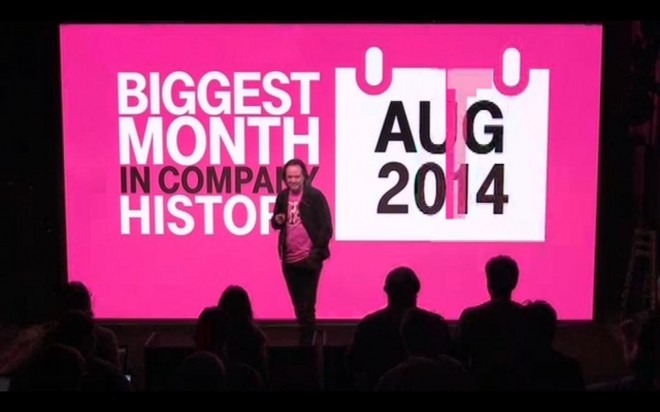 I'm no financing, earnings or stock market guru. But I still can't help but be impressed by the magenta carrier's momentum this year. It returned to revenue growth for the first time in years and is getting to the point where it might report a profit (at last). What's more impressive is that although it's the 4th largest carrier, it has been adding more subscribers than all of its competition. In Q3 alone, the company added 2.3 million customers to its ranks. That's 10 million added over the course of 6 quarters. And it broke all of its records (virtually) including service revenue growth of 10.6% year-on-year.
Which ever way you look at it, T-Mobile is on the up.
.


All the best phones and all the best offers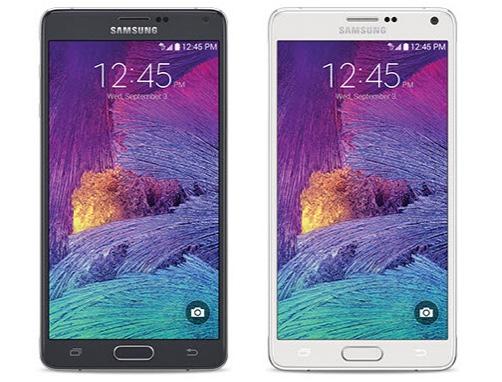 There weren't any major flagship U.S. Android or iOS devices that T-Mobile missed out on this year, apart from the new Verizon exclusive Droid Turbo. T-Mo got the Galaxy S5, HTC One M8 (Windows version too), Galaxy Note 4, Nexus 6, Xperia Z3, iPhone 6 and 6 Plus and LG G3. If there was one area it fell short, it was Windows Phone. Sure, it got the HTC One M8 for Windows, but no high end Nokias. It seems – sadly for WP fans – that T-Mo is more focussed on the lower end of Microsoft's mobile platform. But then again, that's a safe bet since it's the only area of the market in which Windows Phone seems to be doing well.
There were some great plans and offers worth highlighting from this year too. T-Mobile added a new truly unlimited tier to Simple Choice, costing $80 per month, it gives unlimited 4G LTE and 5GB of hotspot allowance. We also saw new Stateside international talk and text plans as well as the awesome new unlimited 2 for $100 deal and 10GB, 4 for $100 Family Plans. Tablets buyers got further inventive to join T-Mobile with the new data matching plan for customers buying tablets and Simple Choice smartphone plans.
.


The not so good

Not all plan changes and company policy changes were popular. Changes to JUMP! split opinions. On the one hand, the new JUMP! plans would allow customers to change phones whenever they wanted, instead of making them wait at least 6 months. But on the other, you now need to have paid at least half of the phone's EIP to upgrade early. The end of T-Mobile's corporate monthly discount caused a stir early this year too. Apart from some governmental bodies, T-Mo has been ending relationships with many companies meaning that many are losing their monthly line rental discount. What's more, some vocal customers are upset at the "forced" migration from legacy plans to Simple Choice. And compulsory SIM Starter Kits now cost $15 each (up from $10).

Perhaps the biggest cloud of T-Mobile's year was the lawsuit from the FTC, alleging that T-Mo had been adding millions in "bogus" charges to its customers' accounts. This was after the carrier had announced a program to refund customers who had been charged for Premium SMS services they didn't want. In the end, T-Mobile and the FTC agreed on a settlement worth around $90 million.
.


What's next, for 2015?

In short: More of the same please, John. We want the same Uncarrier attitude, the same dedication to eliminating broken parts of this industry. Whether that's continuing to petition the FCC to change broken and old rules about spectrum auction and roaming deals, or eliminating customer pain points. This is the Un-carrier, and it has to continue showing the other carriers what they're doing wrong.

T-Mobile's 2014 hasn't been perfect. But it has been fantastic, and incredibly entertaining to watch and be involved in. Let's hope for the same in 2015.

What do you guys want to see in 2015? What Uncarrier moves will shake the industry?

Cheng/Legere image source: CNET