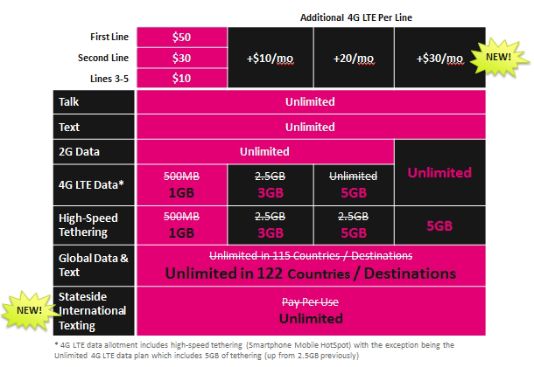 Today, T-Mobile announced that its $50 flagship Simple Choice plan will be offering more value for money than before. It'll now give you double the 4G LTE data, and double the tethering as well as unlimited international texting.
For $50 per month on Simple Choice, customers signing up will get 1GB of data at LTE speeds which can be used for tethering or use on the device itself.
Simple Choice customers still start with one line at $50 per month for unlimited data, talk and text on our nationwide network – but will now get a full 1GB of 4G LTE data and tethering – double the previous amounts. Customers can still add a second line for $30 per month and up to three additional lines for $10 per month. Those additional lines also get the extra 4G LTE data with these changes.  

As before, Simple Choice customers can always add more 4G LTE data to each of their lines. They can opt for 3GB of 4G LTE data, including tethering, for an additional $10 a month per line (vs. 2.5 GB previously), or 5GB for an extra $20 a month per line. There is a new unlimited 4G LTE option, which now comes with a full 5 GB of tethering, double the previous amount, for an extra $30 per month (vs. an extra $20 previously).
Customers will also be able to send text messages abroad from the U.S. as part of their plans without being charged any extra. You'll be able to SMS friends and family in over 120 countries. As well as being able to text from the States to abroad, T-Mobile is increasing the number of countries included in the unlimited text and data roaming. The list now includes 122 countries and destinations.
As for time frame on these changes:
The new benefits will begin immediately on March 23 for customers who choose to run credit and take the postpaid option. For those who prefer not to run credit and opt for prepaid service, unlimited international texting will start on April 26.
As for those on the unlimited 4G LTE plans, yours will stay exactly the same unless you opt for the new unlimited plan with twice the tethering.
For more information and the full press release, hit T-Mobile's newsroom.
[UPDATE: Just to explain a few things a little more simply. 
In essence the old system of having three Simple Choice plans is going away. Or rather, we're getting an extra tier. Instead of having $50, $60 and $70 offering 500MB, 2.5GB and unlimited 4G LTE respectively, we're going to have $50, $60, $70 and $80 offering 1GB, 3GB, 5GB and unlimited. 
70 dollars per month will not get you unlimited data at LTE speeds anymore. Instead, you'll get 5GB of data and tethering. Previously, the unlimited plan only included 2.5GB of tethering allowance. The new $80 plan will give you unlimited data at LTE speeds with a generous 5GB of tethering as well as the Stateside international texting. 
Now, if you're an existing $70 unlimited customer, you don't get automatically switched to the new plan. You can opt in to pay the extra $10 per month, but only if you want to. 
Existing customers on the existing Unlimited 4G LTE plan (or who sign up before March 23 for it) will be able to choose to stay on that plan (by taking no action) or they can switch to the new version with more tethering for just a few dollars more per month.
Of course, all Simple Choice plans will offer Global Text and Data (as they do currently), but the list is growing to 122 countries worldwide. Not just 115. And they will all feature unlimited Stateside International Texting. So you can text abroad from the States.
Mike Sievert has written a full post breaking down all the changes in plain English. So, check that out here. ]