As we heard a while back, this is T-Mobile's next phase of Uncarrier. It's not just a promotion that last just a few weeks. It's here to stay. According to some surveys, 78% of customers would switch if someone paid their ETF. Legere made a joke about AT&T customers who could leave, take advantage of Uncarrier 4.0, then if you don't like it, go back  and take advantage of AT&T's $450 to switch offer. You've lost nothing.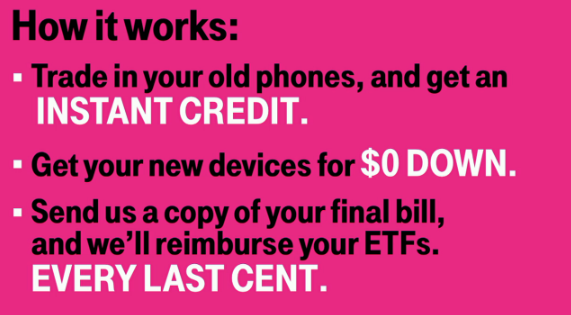 NOT A PROMOTION – IT'S HERE TO STAY
It's not a gimmick, "this is the end of contracts" according to T-Mobile. At its core is the focus on enabling families to switch, and free them from the huge cost of canceling multiple lines/family plans early. Up to 5 lines, up to $350 per line. Plus, an instant credit for trading in their old phones. Phone trade-ins could get up to $300 each depending on the value of your old phone.
For example, you trade-in a 16GB iPhone 5s and you'll get $282; an $82 profit on what you paid your old carrier as a down payment. Then you can get a new phone on T-Mobile for $0 down. Once you've taken your final bill to Tmo, they'll reimburse your ETF on top of the trade-in you've already got. Even if you have 20+ months left, it'll still be paid off, providing it's not more than $350 (which it shouldn't be).
Family is a big deal here: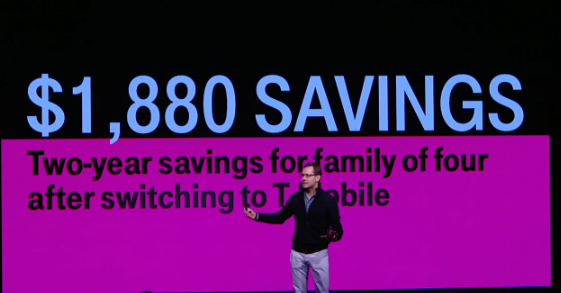 Worst case scenario: There are five of you and each of you has $350 to pay in ETFs. That's $1,750, and T-Mobile will pay every cent of that, as well as giving you the trade-in value of your phone.
Edit: Don't want to mislead. Trade-in of old phone and porting of your phone number is required. Just as we'd heard before the announcement.
"Trade-in of their old phone, purchase of a new T-Mobile phone and porting of their phone number to T-Mobile are required to qualify."
$0 down on the most popular phones. 
To make it easier to switch, so that your trade-in cost isn't swallowed up by down payment, most top phones will be available on $0 down offer. Obviously, the entire cost of the phone will then be spread over 24 months on EIP, but, you'll not need to pay a down payment. This, I feel is pretty important. Keeping the same family in mind, 5 people are going to struggle to pay a down payment on a phone each, unless they go for a low-end device.
The Break-Up Letter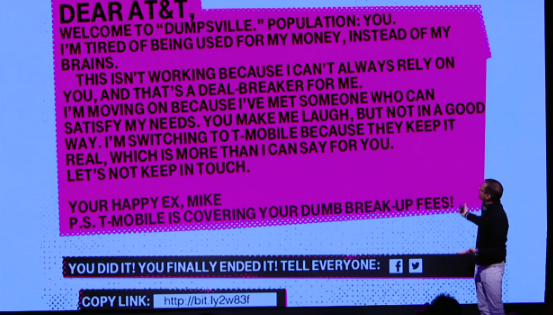 A sort of gimicky move, T-Mobile will automatically create a Break-Up letter and spread the news of your switch across social networks. It's pretty fun.
What about existing customers on old plans?! 
Good news. If you're a longtime customer with an old plan, you can migrate to Simple Choice without incurring any extra charges. To qualify, what you can do is trade in your current device and purchase a new one, then switch to Simple Choice that way. Your migration fee is waived, and the existing annual service contract is cancelled.
Overview: 
All in all, T-Mobile's quest to break away from subsidies is ongoing. Except this time, it's breaking customers away from subsidies hidden by other networks in form of the ETF. Because essentially, that's what it is. You've paid your $200, which means the other $350 or so in ETFs is the rest of the cost of that phone. Legere didn't announce this as a promotion. This is just another strand of the ongoing battle to change the wireless industry.
By giving customers a way out, it'll be interesting to see if T-Mobile's 1.6 million net adds from last quarter will be improved upon further this year. Coupled with the wideband LTE and $0 down on great phones, this should be an amazing year for Tmo.
More info from T-Mobile:
Here's how T-Mobile's offer to pay off these fees works:
 
Starting tomorrow, customers from the three major national carriers who hand in their eligible devices at any participating T-Mobile location and switch to a postpaid Simple Choice Plan can receive an instant credit, based on the value of their phone, of up to $300. They then purchase any eligible device, including T-Mobile's most popular smartphones, now priced at $0 down (plus 24 monthly device payments, for well-qualified customers). After customers get the final bill from their old carrier (showing their early termination fees), they either mail it to T-Mobile or upload it to www.switch2tmobile.com. T-Mobile then sends an additional payment equal to those fees, up to $350 per line. Trade-in of their old phone, purchase of a new T-Mobile phone and porting of their phone number to T-Mobile are required to qualify. 
 
This offer to pay early termination fees provides families with a quick way to escape carrier contracts that have deterred them from pursuing a better and more affordable wireless experience with T-Mobile.  
 
T-Mobile is also making it easier for its longtime customers to migrate to Simple Choice plans as well without incurring any migration fees. To qualify for this option a current customer under contract trades in their current device and purchases a new T-Mobile device and switches to Simple Choice. In addition to waiving the migration fee, T-Mobile will also eliminate the existing annual service contract for that customer's line.  
 
With a Simple Choice Plan from T-Mobile, families start with one line at $50 per month for unlimited talk, text and Web with up to 500 MB of 4G LTE data. They can add a second phone line for $30 per month, and each additional line is just $10 per month. In short, a family could get four lines for just $100 per month (plus taxes and fees). The potential savings are so significant that if every single AT&T, Sprint and Verizon customer switched to a Simple Choice Plan, T-Mobile estimates they would save up to $20 billion [iv]collectively each year. 
 
In addition to great family plan savings, individuals and families can also enjoy an incredible wireless experience thanks to T-Mobile's rapidly expanding nationwide 4G LTE network– now the fastest[v] in the United States. For more information, visit the T-Mobilenewsroom.