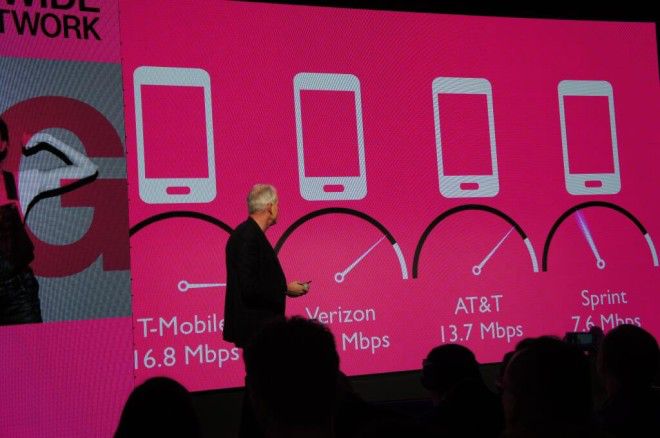 Apart from the ETFs of other carriers being paid, T-Mobile made sure we knew they have the best LTE coverage in the U.S. At least, they have the fastest. Results gathered from real-life users' tests on SpeedTest.net have shown T-Mobile's average download speeds to be faster than all three of the other major U.S. carriers. Tmo's LTE now covers 209 million people in 273 metro markets, which makes it the fastest growing too.
This – of course – in thanks in part to the roll-out of 20+20 LTE. It's begun in Dallas – as we reported back in November – and is making its way quickly to other major metro areas. Branded as Wideband LTE, it brings much, much faster download speeds.
For those of you worried about having to buy a new device, you'll be glad to know that most of T-Mobile's current LTE lineup is compatible with the 20+20 network.  Any category 4 device, like the Nexus 5, LG G2 and Galaxy Note 3 will be able to take full advantage of the speeds on offer by the 20+20 network. Category 3 devices like iPhone 5/5S/5c, Galaxy S3/S4/Note 2 will be compatible, but, won't be quite as fast. Still, plenty fast enough. During the keynote they made a point of comparing this with Verizon's new AWS airwave offerings, which amazingly, aren't compatible with many of its phones. Of course, the three new devices (Sony Xperia Z1S, LG G Flex and Galaxy Tab 3) are all compatible.
A-block? 
One thing I really enjoyed about today's announcement was the feeling of honesty. We know T-Mobile recently agreed a deal to buy Verizon's low-band A-block airwaves. The deal involved around $2.3 billion and some swapping of various spectrum. They refused to give any promises to roll this out quickly. In fact, when discussing time scales, it seems more likely that it'll be in the second half of the year, perhaps even the fourth quarter, before we see any of these markets lighting up.
The idea here is to expand and broaden the LTE coverage in some key markets, and bring better quality coverage. Low-frequency airwaves are much more adept at getting through walls and in to buildings. It's an absolute must for a network that almost solely relies on higher frequencies for its coverage.
Network + Insane Offers = Lots of new, happy customers? 
See, T-Mobile could easily have presented the new Uncarrier plans today without once mentioning coverage. The deal to get people switching for its network is pretty incredible. But, the fact that it's taken time to make a big deal about its LTE expansion, the acquisition of lower band airwaves and the upgrade to 20+20 LTE, means that magenta is as serious about the experience of being on the network as it is about being the most competitively priced option in the wireless industry.
Perhaps what will be more interesting now is seeing how the competitors respond, particularly AT&T.