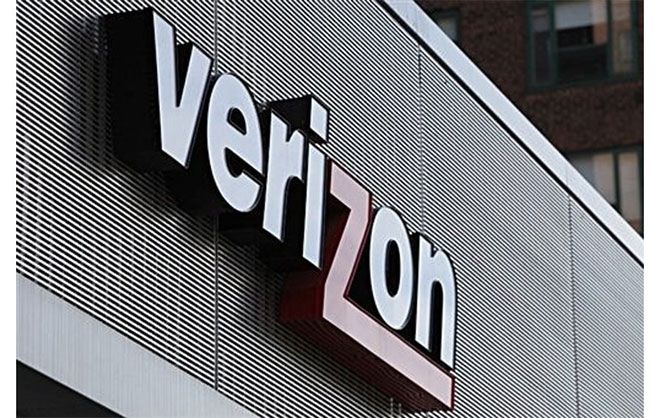 We've been reading reports for a while that T-Mobile could be weighing up a move for Verizon's unused lower-frequency airwaves. Initially, VZW had officially stated that it was willing to sell, but only for the right price (thought to be between $2B-$3B). Last month, the two companies had also applied for permission from the governing bodies to swap spectrum. Today, the magenta-flavored carrier has announced that the purchase is going through.
In a press release this morning, T-Mobile announced that it is to acquire 700MHz A-Block spectrum from Verizon. Its purpose is to help Tmo "rapidly expand" its network. This low-band spectrum covers roughly 150 million people and will "improve the customer experience in major metro areas." With it being low-band, it is much better at getting indoors and should help Tmo provide fantastic, fast LTE coverage that works just as well indoors as it does outside. This deal cost T-Mobile $2.37 billion (in cash and transfer of AWS and PCS spectrum licenses).
It's great to see T-Mobile making good on its promise to invest in acquiring more spectrum in an effort to provide a fast and widely available LTE network, and that network will soon be one of the best quality networks around.
Of course, this announcement only precedes  another major event at CES in two days time. We're expecting John Legere to get up on stage and "transform" the industry yet again. Our sources suggest it's going to offer families a way out of contracts with other carriers before they're due to end. AT&T already responded to those rumors by offering up to $450 to T-Mobile customers looking to change carrier.
Something tells me Wednesday is going to be very interesting indeed. We'll have full coverage for you.
UPDATE: A quick look at the new 700MHz spectrum map: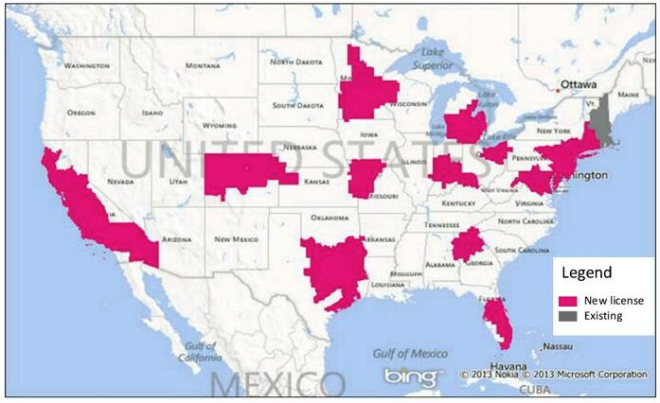 Full Press Release:
T-Mobile to Acquire 700 MHz A-Block Spectrum from Verizon Wireless, Significant Step in Rapidly Advancing Un-carrier Network Experience

Low-band spectrum covering approximately 150 million people will further improve customer experience in major metro areas, boosting in-building and breadth of network coverage
BELLEVUE, Wash., Jan 06, 2014 (BUSINESS WIRE) –T-Mobile US, Inc. (NYSE: TMUS) today announced that its wholly-owned subsidiaries T-Mobile USA, Inc. and T-Mobile License, LLC have signed agreements to purchase certain 700 MHz A-Block spectrum licenses from Verizon Wireless for $2.365 billion in cash and the transfer of certain AWS and PCS spectrum licenses, which have an aggregate estimated value of approximately $950 million. The transactions, combined with T-Mobile's existing A-Block holdings in Boston, will result in T-Mobile having important low-band spectrum in 9 of the top 10 and 21 of the top 30 markets across the United States. "This is a great opportunity to secure low-band spectrum in many of the top markets in America," said John Legere, President and CEO of T-Mobile. "These transactions represent our biggest move yet in a series of initiatives that are rapidly expanding our already lightning fast network and improving its performance across the country. We will continue to find ways to advance our customers' network experience just as our bold Un-carrier moves have shaken up the wireless industry to benefit consumers."

These are significant transactions that will further enhance a rapidly improving network experience that T-Mobile expects will create shareholder value. Low-band spectrum substantially improves in-building coverage as well as coverage in rural areas. It also travels greater distances than high-band spectrum and therefore is a more efficient way to provide coverage at the edge of cities and in less densely populated areas. Combined with its existing Boston A-Block holdings, T-Mobile will have low-band spectrum covering approximately 158 million people — including New York, Los Angeles, Dallas, Houston, Philadelphia, Atlanta, Washington D.C., and Detroit. T-Mobile anticipates rolling out service and compatible handsets on this A-Block spectrum as early as the fourth quarter of 2014.

In 2013, T-Mobile continued its rapid LTE rollout, deploying 10+10 MHz 4G LTE in 43 of the top 50 metro areas and it is commencing substantive deployments of 20+20 MHz 4G LTE in 2014. The company launched its nationwide 4G LTE network in 2013, which currently covers approximately 209 million people in 273 metro areas.

Also, as part of the transaction, the two companies will realign spectrum blocks in certain markets, primarily in northern California and the Atlanta area.

The agreements are subject to approval by the Federal Communications Commission and the Department of Justice, and other customary closing conditions. Following regulatory approval, these transactions are expected to close in mid-2014.

TAP Advisors worked as financial advisors for T-Mobile on this transaction.