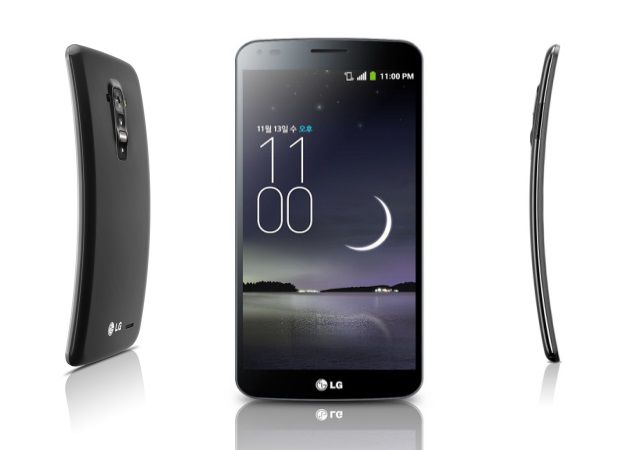 T-Mobile's list of top handsets is expanding. The latest to be heading to magenta is the LG G Flex. In a press release today, T-Mobile confirmed that it would be selling the giant Android-powered smartphone with a curved screen, but didn't give any pricing or release date information.
"The LG G Flex offers T-Mobile customers a more reassuring grip and fit as well as an outstanding voice and sound experience because the distinctively curved design follows the contour of the face. The ultra-thin, ultra-light, flexible 6-inch Plastic OLED display is brighter and more precise making it ideal for watching videos or playing games on-the-go. The G Flex also features the Rear Key control for convenience of using one index finger to power the device on or off and adjust volume. It also has self-healing paint on the G Flex back cover that LG says is designed to help recover from the wear and tear of daily use, including scratches from keys[3]. The advanced smartphone features a 13MP HD camera to capture crisp, detailed, high-quality images and videos. In addition, the LG G Flex includes the world's first curved battery technology for a smartphone with a capacity of 3,500 mAh for power, sleek design and comfort in the palm of your hand."
I never got the appeal of curved screen phones, but it's good to see T-Mobile ensuring it gets some of the biggest phones. It'll be interesting to see if the company is going to announce any more phones at CES this week. So far we're expecting some announcements made on coverage and promotions, but haven't heard anything on device availability yet (apart from this official announcement).
We'll keep you updated as soon as we hear
Via: T-Mobile