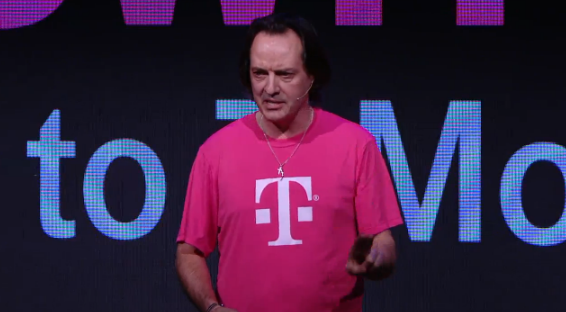 Today at its Uncarrier 4.0 event, T-Mobile announced a handful of new products and services. John Legere took to the stage at an incredibly intimate event. His style was typically relaxed, addressing members of the audience personally at times. He even took time to pay tribute to Verizon for addressing spectrum issues. But, the most important was the new promotion.
We heard a while ago we heard that Tmo was planning to release families from contracts early by paying their early termination fees. That information was correct.
"Get out of Jail Free Card" 
T-Mobile is going to pay off early termination fees for customers wanting to switch from AT&T, Verizon or Sprint. The total offer for the trade-in/rebate could be as high as $650 per line. "Could be" normally indicates a catch somewhere, so we'll wait and see all the details on that as they come through.
"4G LTE Network Fastest in the Country" 
T-Mobile also announced that it has the fastest LTE network in the country. Unlike reports from consultants, firms etc. these results are from SpeedTest.net. Actual, real-life speeds, tested by real-life customers. On average, it's over 17Mbps. And it's getting better. Tmo now covers 209 million people in 273 metro areas, and its adding more spectrum and beginning the launch of its Wideband LTE service (20+20) in Dallas. Wideband was a big push at the announcement and the great news is that almost all LTE compatible phones are compatible with this new, faster, broader network.
(They also made a point to have a dig at the faults of the competitor networks, including Verizon's odd decision to add AWS spectrum to its chest, despite the fact that many of its handsets aren't compatible.)
New Devices
A handful of new devices is coming very soon: LG G Flex, Samsung Galaxy Tab 3 (7.0) and Sony Xperia Z1S. We've already heard of these. So it's no surprise to us, but it's good to hear that the lineup of great devices is continuing to expand.