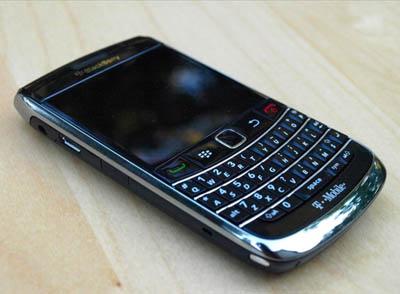 Late last night, BlackBerry announced that it has ended its commercial relationship with T-Mobile. Its current licensing contract ends on April 25, and it will not be renewed. CEO John Chen stated: "Regretfully, at this time, our strategies are not complementary and we must act in the best interest of our BlackBerry customers,"
BlackBerry and T-Mobile's relationship over the past couple of months has been tense, to say the least. First off, T-Mobile kicked off a marketing campaign in which it told BlackBerry users that switching to an iPhone was  a "great deal". Unsurprisingly, the BlackBerry faithful weren't too impressed, and neither was BBerry's chief. In an effort to smooth things over (or just take advantage of the situation), Tmo launched a promotion offering anyone from any carrier $200 to trade-in their BlackBerry devices, with a further $50 for customers choosing newer models. In the end, almost 95% of those who traded in switched platforms and chose Android or iOS.
For those of you still loyal BlackBerry fans on Tmo, this will come as bad news, I'm sure. But it's not entirely surprising. You'll be pleased to know that existing BB users will still get support from BlackBerry, but from April 25th, none of the manufacturer's wares will be for sale on Magenta's network.
FULL PRESS RELEASE
BlackBerry Ends T-Mobile U.S. Licensing Agreement

WATERLOO, ONTARIO–(Marketwired – April 1, 2014) – BlackBerry(R) Limited (NASDAQ:BBRY)(TSX:BB), a world leader in mobile communications, today announced that it will not renew the T-Mobile U.S., Inc. license to sell BlackBerry products when it expires on April 25, 2014. 

BlackBerry customers on the T-Mobile network should not see any difference in their service or support. BlackBerry will work closely with T-Mobile to provide the best possible customer service to any customer remaining on the T-Mobile U.S. network or to any customer purchasing devices from T-Mobile's existing inventory. 

BlackBerry is also working closely with other carrier partners to provide consumers and business users with alternatives should they decide to transition to another carrier and remain with BlackBerry for their long-term device and service needs. For additional details, offers and assistance, business customers and consumers can go to http://us.blackberry.com/smartphones.html.

"BlackBerry has had a positive relationship with T-Mobile for many years. Regretfully, at this time, our strategies are not complementary and we must act in the best interest of our BlackBerry customers. We hope to work with T-Mobile again in the future when our business strategies are aligned," said BlackBerry CEO and Executive Chair, John Chen. "We are deeply grateful to our loyal BlackBerry customers and will do everything in our power to provide continued support with your existing carrier or ensure a smooth transition to our other carrier partners.

About BlackBerry

A global leader in mobile communications, BlackBerry(R) revolutionized the mobile industry when it was introduced in 1999. Today, BlackBerry aims to inspire the success of our millions of customers around the world by continuously pushing the boundaries of mobile experiences. Founded in 1984 and based in Waterloo, Ontario, BlackBerry operates offices in North America, Europe, Asia Pacific and Latin America. The company trades under the ticker symbols "BB" on the Toronto Stock Exchange and "BBRY" on the NASDAQ. For more information, visit www.BlackBerry.com.