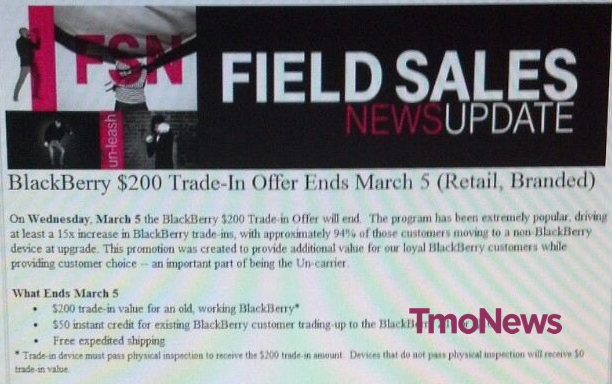 Tomorrow, March 5th, the $200 trade-in for an old BlackBerry device offer is ending. We've already heard from T-Mobile's CMO that the promotion lead to 15 times the normal amount of BlackBerries being traded in. What we didn't know was how many of them stuck to their platform, and how many swapped for different devices. Now we do.
We've received an image of an internal memo from one of our sources which shows that information. According to the field sales news update, 94% of all the people trading in their BlackBerry phones switched to non-BlackBerry devices. We don't have a specific figure of how many customers that was, but we do know that the promotion was – according to our sources – "very successful".
Now, when you look at the state of the market, at BlackBerry's market share in particular, it's not entirely surprising in and of itself. But, given the events leading up to the promotion, it is – at the very least – ironic.
In the weeks leading up to the $200 trade-in offer, T-Mobile had sent out promotional materials with a "great offer" for BlackBerry users. The offer: To grab a brand new iPhone at a great price. BlackBerry loyalists kicked up a huge stink, and the company's CEO even responded, lambasting T-Mobile's marketing campaign as "inappropriate and ill-conceived". Following on from this very public criticism, Tmo wanted to show its BlackBerry using customers that it cared, and then kicked off the $200 trade-in promotion, offering an extra $50 off for anyone upgrading to one of the new BBerry phones (Z10 and Q10).
The result: Almost all of the customers trading in decided against sticking with their chosen brand, and went with something entirely different.
It's certainly an interesting lesson in marketing, and response to customers. The initial marketing was perhaps not well thought through, and the loudness of the criticism from BlackBerry fans was almost deafening at times. T-Mobile, though, used this very public criticism as a tool, turned it around and played a winning card. Despite wanting to fiercely protect its brand, BlackBerry ended up losing customers, and Tmo had a successful marketing campaign.