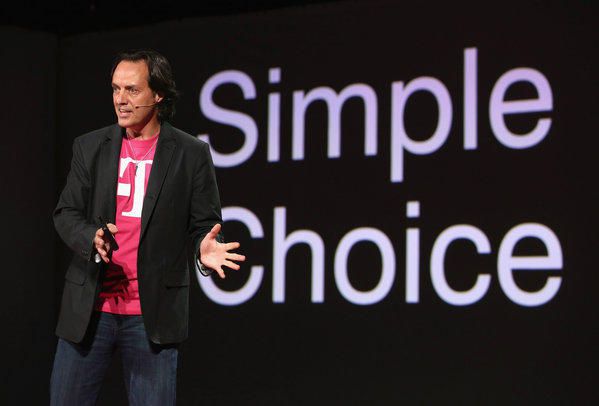 Yesterday, T-Mobile announced that it would be launching a new Simple Starter plan, giving customers the chance to get quadruple the data for just $5 extra per month. Instead of paying $40 for 500MB of data, subscribers can now sign up for 2GB and pay just $45 per month. And the company wasn't done there.
Today, T-Mo has announced a couple of new initiatives. One we already knew about, and other we didn't. From September 3rd, customers can add a tablet to their postpaid Simple Choice plan for just $10. Whatever allowance they get on their plan, T-Mo will match it on the tablet. So if you have a 5GB Simple Choice plan, you'll be able to get a tablet with 5GB added on for just $10 more per month. This is true of every Simple Choice tier up to the $70 5GB plan. Using that plan as an example, you'll pay $80 per month and have a smartphone and a tablet and 5GB of data to use on each device. Let's not forget, you still get the free 200MB data every month, for the life of your tablet plan.

As you can see, when you compare similarly priced plans on the other three major carriers, the data allowance is huge.
If you're an unlimited plan customer, sadly, you don't also get unlimited on the tablet. From the way I understand it, you will also get 5GB of data to use on your tablet should you decide to pay the extra $10 for a tablet line to be added to your account. These new plans go live next week, on September 3rd.
Family Plan – 10 line maximum confirmed (officially)
We've been banging on about this for weeks now, but, T-Mobile has officially announced that customers will soon be able add up to 10 lines to their Simple Choice family plans.
 T-Mobile is expanding its simple, low-cost pricing from a maximum of five lines per account to 10, in response to the needs of families and small businesses.

 Consumers can add additional lines, up to 10, for just $10 per line after the 2nd line.  And only at T-Mobile can you add unlimited 4G LTE for just $30 extra per line."
These changes were launched (very quietly) last week, and today is the first time T-Mo communications have acknowledged the fact you can now get more than 5 lines on your account.
Source: T-Mobile