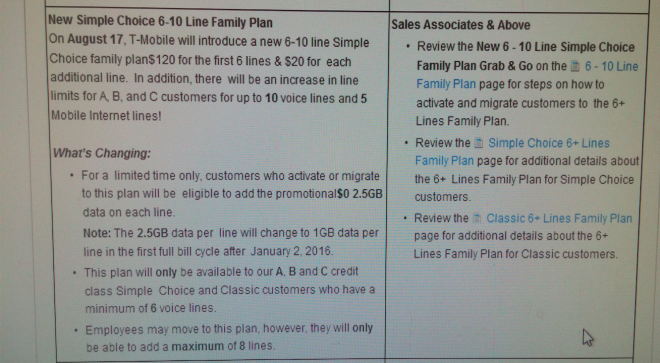 A little while back, we got word that T-Mobile is planning to increase the number of lines available to customers with family plans. Our sources informed us that the change would enable customers to have up to 10 lines on their Simple Choice Family Plan as well as 5 extra mobile internet lines. Today, we've received an internal memo informing retail staff of the upcoming change. As was revealed in July, the date set for this new plan is August 17.
What we didn't know in July was that T-Mobile is also going to be extending the 2.5GB promotion to these extra lines. Currently, T-Mobile offers a 4-line family plan for $100, with a total of 10GB of data (2.5GB per line). With the new plans – coming to effect on August 17th – you'll be able to get 10 lines with 2.5GB on each for a total of $200 per month. ($120 for 6 lines, plus $80 for lines 7-10). All-in, that's 25GB of data (2.5×10). Like the original 10Gb for $100, 4-line offer, it ends on January 2nd, 2016 meaning every line drops to 1GB of data on that day.
Further new details include the fact that only A, B and C credit class Simple Choice and Classic customers. Also, a note to employees: You get a maximum of 8 lines, but you can also move to the plan. Once we get official word on this, we'll bring you the full details. But, at least for now, the picture's a little clearer.
UPDATE – Nothing on T-Mobile's site yet. 
It's August 17th, and so far nothing has shown up to confirm this memo in the online store. Whether that's because T-Mobile is delaying the launch, or because it's for existing customers only, or because it's not happening at all is entirely up in the air right now. I'll write up a separate post if/when T-Mo does announce it.