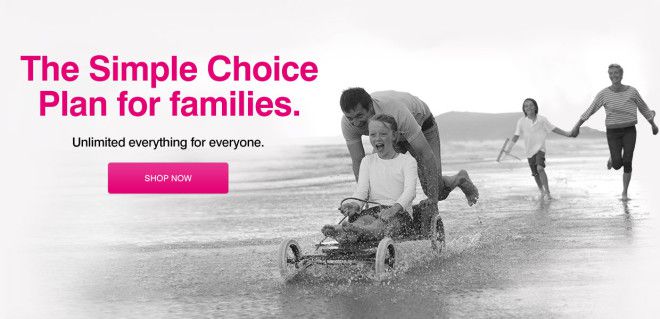 This week, T-Mo undercut AT&T's "generous" 10GB family plan for $160 by announcing that it would start offering a 4-line family plan for $100 with 2.5GB per line (10GB total) per month. This offer is good until 2016 for anyone who signs up, at which point, the lines are dropped back down to the regular 1GB per line allowance. But we've received word from our sources that T-Mobile is planning more extensive changes to its Family Plan system beginning August 17th.
From 8/17, T-Mobile will allow Family Plan subscribers to add up to 10 lines on each Simple Choice account (classic or new). Customers will also be allowed to add up to 5 mobile internet lines per account. What that means is that – if you're a family of 5 – you could potentially have everyone with a smartphone and a tablet each, as well as 5 phones for other family members (grandparents etc.).
Pricing is pretty simple. On the basic Simple Choice plan – as you do currently – you'll pay $50 per month for the first line and $30 for the second. Lines 3-6 will cost $10 each while lines 7-10 will cost $20 on the new Simple Choice plans. Totaled, that's $200 per month for 10 lines on the lowest plan. Charges are slightly different for customers on the classic Simple Choice plan. Instead of paying $20 each for lines 7-10, you'll pay $30. An internal memo can be seen below:

With these planned changes, it's clear T-Mobile thinks that the current 5-line limit is hindering potential business. By opening it up to more additional lines, it gives the opportunity for more family members to get hooked on T-Mobile, or for customers to have multiple devices.