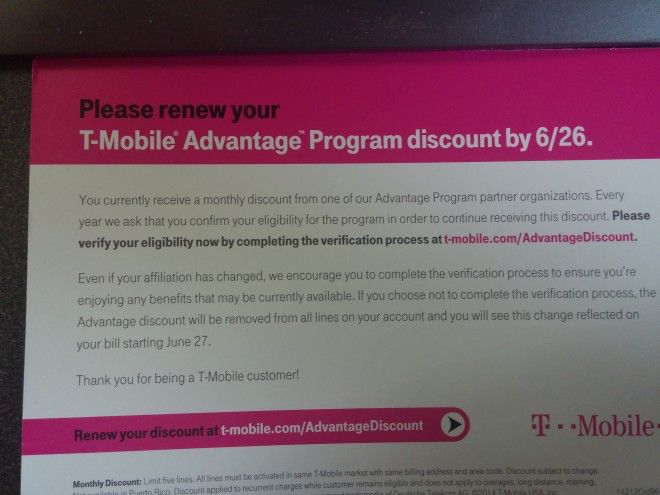 T-Mobile caused something of a stir a little earlier this year when it announced that it would be ending the Advantage Program monthly discount, replacing it instead with a credit-per-phone system instead. Perhaps what got the strongest reaction was the fact that those who had already signed up would lose theirs as well. At least, that was the initial plan. Thankfully, after strong reaction and a petition, T-Mobile changed its mind. Although the plan to replace the monthly discount scheme with a credit-per-phone system went ahead, current monthly discount receivers would be grandfathered in, providing they renewed by May 31st.
T-Mobile then issued a second set of reminders separately to renew monthly discounts by June 26th. Similar to the postcards sent out to other discount receivers. But, those who received discount by being a member of the PTA and AAA are seemingly losing it, despite being reminded to renew.
A growing thread on Howard Forums would indicate that a number of members of the Parent Teacher Association and Triple-A – upon attempting to verify and renew their monthly discounts – are being informed that their organizations are no longer accepted. And that their discounts will end, unless they find another affiliate to register through.
What's a little unusual about this is two-fold. Firstly, there's a notice from February on the PTA's site claiming that anyone with the discount who signed up before February 3rd this year should be able to continue, and even add extra lines.
"T-Mobile has discontinued their association discounts. This change only affects individuals who are thinking about signing up. Members and employees on the T-Mobile Advantage Program as of February 3, 2014 will continue to receive their discount." 
Secondly, to send out reminders in the form of a postcard to PTA/AAA members to re-verify their discount by June 26th, only to be informed that those organizations are no longer recognized or partners, is a little harsh to the consumer on the receiving end. One reader (a PTA member) who got in touch had 4 lines with 14% discount, and hit the link mentioned in the reminder postcard above, and had his verification request declined.
If T-Mobile and the PTA/AAA have ended their agreement, it's understandable that any new sign-ups shouldn't receive discount. As laid out in the notice back in February. But, to have customers expecting to be grandfathered in after announcing it during the hubbub a couple of months back, and then not renewing it does seem steep.
We'd love to hear from you if you've had your verification request declined after attempting to renew your Advantage Program discount. There are all sorts of explanations why this is happening; system error, filling in forms incorrectly etc. But we'd like to think T-Mobile isn't going back on its word. Send me an email to cam@tmonews.com with any experiences you have. If you've successfully renewed, we'd love to hear from you too.
 UPDATE:
We have a company statement which we hope helps clear the confusion, even if it doesn't help ease the frustration:
"We're doing what we said we would, and asking participants in our Advantage Program to confirm their affiliation with a company or association in the Advantage Program.  Some companies and associations are no longer members of the program. Many associations still have active agreements with T-Mobile for the Advantage Program, and those discounts will remain.  For those that do not have an active agreement (like AAA and PTA), you can still keep the discount if you are employed at a company that has an Advantage Program agreement. "
So there you have it. If you're a member of AAA or PTA (plus some others), you won't be keeping your monthly discount.