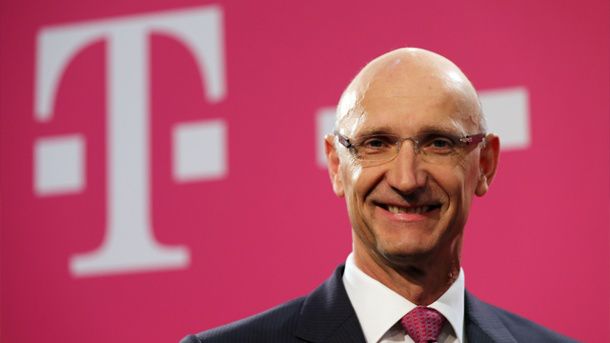 Re/code early this morning published an insightful exclusive report having recently spoken to Tim Hoettges, Deutsche Telekom's CEO. He stated that although T-Mobile's recent moment is great, it still needs "greater scale" to compete with AT&T and Verizon.
One way to do that would have been to merge with Sprint.
Speaking to Re/code outside the DLD Conference in Munich, Hoettges remarked that he was "intrigued by the idea of having a combination with Sprint and being the 'super-maverick' in the market." And that he hoped "that the political environment will change at one point in time."
For the entire first half of 2014, one story which provided a string of consistency in T-Mobile's world was the rumor that it would merge with Sprint. Multiple reports and rumors from well-respected sources claimed that SoftBanks (Sprint's Japanese parent company) was looking for ways in which it could buy out Deutsche Telekom's controlling stake in T-Mobile US. The idea would be to buy the controlling share and then merge the company with its nearest competitor, Sprint.
For most T-Mobile fans, this was never welcome news. We watched as the Japanese carrier's chief organized the finances and spoke with the regulatory bodies in the U.S. about the potential for a deal. Having not received any encouragement from the FCC or DoJ, SoftBank gave up on its attempt. There was no guarantee that the merger would go through, and it would be an expensive failure had they tried and not managed to push it over the finish line.
But there was one potential positive outcome: If T-Mobile kept its brand name, its energetic CEO (Legere) and its Un-carrier mentality, it could absolutely destroy the big two carriers.
One reality to come from this morning's article is that although the Magenta carrier is adding more subscribers than anyone else, it doesn't have the wealth and spectrum of the two biggest carriers. These are major obstacles. Without the cash and spectrum, the carrier can't compete toe-to-toe on network size or quality.
Despite all this, T-Mobile has made impressive strides throughout 2014.
"We have done what we had to do,"Hoettges explained. "We had built an infrastructure and this infrastructure had to get utilized and we did that with very aggressive promotions."
On a less positive note, Hoettges also stated that T-Mobile's current approach isn't sustainable in the long-term. Between $4B and $5B investment is needed each year to keep it up. Long story short: T-Mobile needs to return to profit, and Deutsche Telekom would be open to a merger with Sprint if the political landscape welcomed the deal.
Source: Re/code