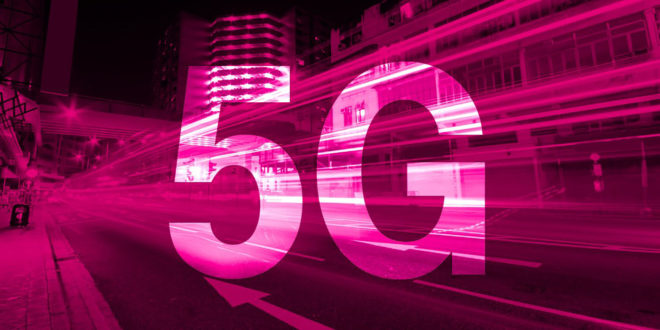 T-Mobile and Sprint's merger is facing a lawsuit from 16 state attorneys general who want to block the deal, and so it's unclear when or if the merger might close. Now a report says that that lawsuit is affecting T-Mobile in another way.
T-Mobile is reportedly pausing its purchase orders for new builds and 5G upgrades until 2020. A T-Mo construction manager has told Wireless Estimator that the decision is a result of the aforementioned lawsuit from the state AGs who want to block the T-Mobile-Sprint merger. The manager claims that T-Mo had no plans to cut back its network growth in the fourth quarter and that the merger was expected to close in July, after which $1 billion would've been available to T-Mobile to upgrade its network.
One contractor added that he was told he could continue work if he delayed billing T-Mo for 120 days.
A T-Mobile spokesperson explained told Wireless Estimator that it's just performing a capex adjustment. "We are managing capital expenditures as we do every year, and we continue to invest billions to build out our network aggressively, expanding LTE coverage and performance while simultaneously laying the foundation for broad, nationwide 5G in 2020. That hasn't and won't change," the spokesperson said.
When T-Mobile reported its Q2 2019 earnings, T-Mo CFO Braxton Carter said that the carrier plans on spending between $5.4 billion and $5.7 billion on capital expenditures in 2019. That's unchanged from thre previous guidance range, Carter said, but he did note that "we do now expect to be at the very high end of the guidance range."
T-Mobile and Sprint originally expected to have their merger closed in the first half of 2019. Obviously that didn't happen, but they've now secured approval from the Department of Justice and Federal Communications Commission. A group of state attorneys general have sued to block the deal, though, over concerns that it will harm competition and raise prices for consumers. That group recently grew to 16 state AGs after Texas and Oregon joined. Recent rumors said that T-Mo and Sprint are in early talks to try and reach a settlement with the AGs.
For now, T-Mobile has said that it expects its merger with Sprint to close in the second half of 2019, but the trial with the state AGs is currently set to begin in early December.
Via: Light Reading
Source: Wireless Estimator