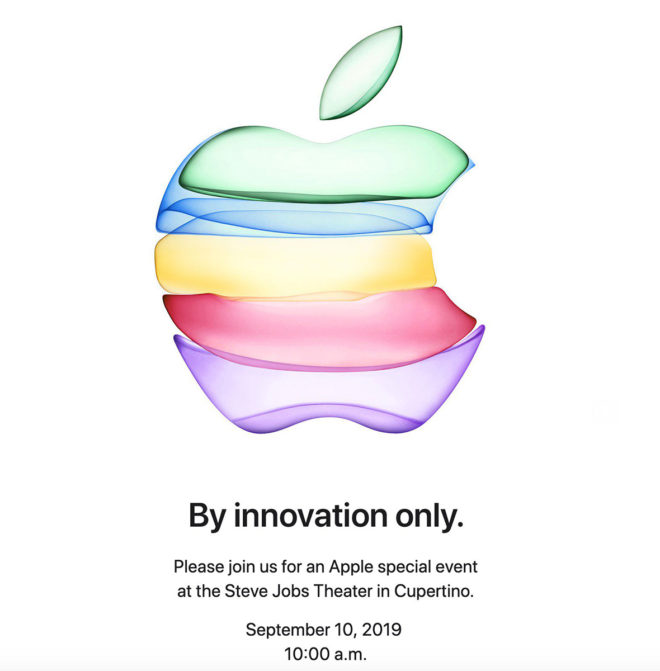 Clear your schedules, iPhone fans, because we've got an official date for Apple's big iPhone event.
Apple today sent out invitations to an event on September 10. The show will kick off at 10:00 am PT, and it'll be taking place at the Steve Jobs Theater on the Apple Park campus in Cupertino, CA. The tagline for the invitation reads "By innovation only." and includes a multi-colored Apple logo.
The invitation doesn't say what Apple has in store for the event, but new iPhone hardware is a solid bet. The company has been using early September events to introduce new iPhones for several years now, and the timing for this one lines up well with all of those past gatherings.
As for what upgrades the new iPhones will have, the rumor mill says that the follow-ups to the iPhone XS and XS Max will gain a third rear camera with wide angle capabilites. Better Face ID with a wider field of view that'll work when the phones are flat on a table will reportedly be included, too, along with a faster processor and "dramatically enhanced" water resistance. Don't expect a new design, though, as these new phones are expected to look similar to the XS and XS Max.
And then there's the iPhone XR successor. This new phone is expected to get a new telephoto rear camera with optical zoom, and new colors are reportedly in the works, too. It's possible that the colors of the Apple logo on this event invitation are a hint at the colors that Apple has planned for its iPhone XR follow-up.
Source: John Paczkowski (Twitter)