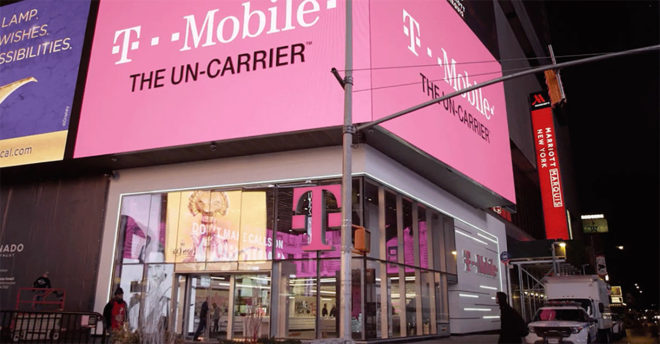 T-Mobile today revealed its full Q2 2019 earnings, and the company reports that it had another strong quarter that includes some broken records.
T-Mobile added 1.75 million customers in the second quarter of 2019, up from 1.58 million in the year-ago quarter. That number includes 1.1 million postpaid adds and 710,000 prepaid additions. This marks the 25th straight quarter in which T-Mobile added more than 1 million total customers to its base.
At the end of Q2 2019, T-Mobile had 83.1 million total customers.
On the financial side of things, T-Mobile brought in record service revenues of $8.4 billion for Q2 2019, up from $7.9 billion in Q2 2018. Total revenues for Q2 2019 grew as well, finishing at $11.0 billion, which is up from $10.57 billion year-over-year. Net income for the quarter was $939 million, which is up $782 million in the year-ago quarter.
Today's announcement also includes an update on the T-Mobile network. T-Mo covers 326 million people with 4G LTE, which is 99 percent of Americans. Also of note is that T-Mobile covers 156 million people and nearly 6,600 cities and towns with 600MHz LTE, which T-Mobile often touts has better reach and building penetration than mid-band LTE.
T-Mo touched a bit on the FCC's recent millimeter wave auctions, saying that its average nationwide mmWave spectrum position has more than quadrupled. T-Mobile is using mmWave spectrum as part of its 5G rollout, and it currently has 5G mmWave coverage live in New York City, Los Angeles, Dallas, Atlanta, Cleveland, and Las Vegas.
T-Mobile also plans to deploy 5G coverage on 600MHz spectrum, and it's using 5G-ready equipment as it deploys 600MHz LTE. T-Mo says that it plans to launch 5G on 600MHz "on a broad footprint" later this year.
Here's what T-Mobile CEO John legere had to say about the Q2 2019 results:
"The T-Mobile team of rock stars delivers quarter, after quarter, after quarter! Record-low customer churn and our best Q2 customer numbers in years. This is in addition to record service revenue, record Q2 net income, and record Adjusted EBITDA. We continue to build out our nationwide 5G network with an aggressive deployment of 600 MHz on 5G equipment and increase our spectrum portfolio through an incredibly successful FCC auction – investing $842 million which more than quadruples our mmWave holdings. Our momentum continues and we won't stop!"
T-Mobile was originally scheduled to host a call today to talk more about its earnings, but now the carrier says that the call will be rescheduled. No official reason for the delay was given, but it could be related to the Justice Department's approval of the T-Mobile-Sprint merger, which was rumored to be happening today but has now reportedly been pushed out until at least Friday.
Source: T-Mobile