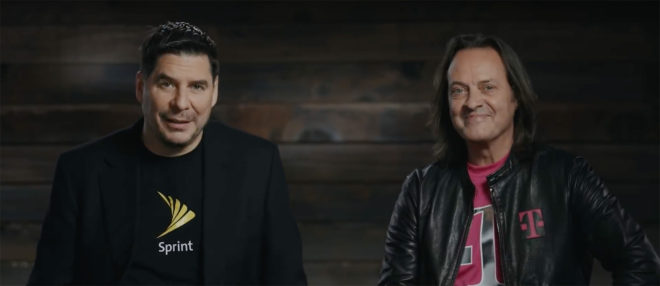 There's been a lot of back and forth lately about whether the Justice Department would approve the T-Mobile and Sprint merger, but today we finally got a decision.
Today the Justice Department officially announced that it is approving T-Mobile and Sprint's merger following an agreement between T-Mo, Sprint, and Dish Network. This agreement is meant to position Dish as the fourth competitive U.S. carrier, taking Sprint's place.
As part of the agreement, Dish will purchase all of Sprint's prepaid businesses, which include Boost Mobile, Virgin Mobile, and Sprint prepaid customers and include 9.3 million customers. Dish will pay around $1.4 billion.
T-Mobile and Sprint will also provide at least 20,000 cell sites and hundreds of retail locations to Dish, and T-Mo must give Dish "robust access" to the T-Mo network for seven years while Dish builds out its own 5G network. Boost, Virgin, Sprint prepaid, and new Dish customers will have full access to Sprint's legacy network and the new T-Mobile's network "in a phased approach".
The new T-Mobile has also agreed to provide transition services for Dish for up to three years following the close of the divestiture deal. These servces will help move Boost, Virgin, and Sprint prepaid customers to Dish and ensure that these businesses continue to operate seamlessly after they've moved to Dish's ownership.
The deal includes Dish acquiring Sprint's portfolio of nationwide 800MHz spectrum for around $3.6 billion. This deal will be completed following an application to the FCC that'll be filed three years after T-Mobile and Sprint's merger closes, which will give time for the new T-Mobile to serve legacy Sprint customers during the network integration process. The companies also have an agreement to provide the new T-Mo with the option to lease back some of the spectrum sold to Dish for two years following the closing of the spectrum sale.
After the closing of T-Mobile and Sprint's merger and the integration of the new T-Mobile, Dish will have the option to take on leases for "certain cell sites and retail locations" that've been decommissioned by the new T-Mobile. These leases could last for five years.

Dish has committed to network buildout schedules using its 600MHz, 700MHz E Block, AWS-4, and AWS H Block licenses.
The agreements struck today require Dish to use its spectrum to deploy a nationwide 5G network that covers at least 70 percent of the U.S. population by June 14, 2023. If Dish doesn't meet this deadline, it'll have to pay up to $2.2 billion to the U.S. Treasury.
"With this merger and accompanying divestiture, we are expanding output significantly by ensuring that large amounts of currently unused or underused spectrum are made available to American consumers in the form of high quality 5G networks," said Makan Delrahim, Assistant Attorney General of the Justice Department's Antitrust Division. "Today's settlement will provide Dish with the assets and transitional services required to become a facilities-based mobile network operator that can provide a full range of mobile wireless services nationwide. I want to thank our state partners for joining us in this settlement."
This is a major step for the merger that T-Mobile and Sprint announced last year, but the merger isn't complete quite yet. There's still the lawsuit from 14 state attorneys general, who have sued to block the merger over concerns that it could harm competition and raise prices for consumers.
"We have serious concerns that cobbling together this new fourth mobile player, with the government picking winners and losers, will not address the merger's harm to consumers, workers, and innovation," New York Attorney General Letitia James said in response to the Justice Department's approval of the merger.
"Dish has never shown any inclination or ability to build a nationwide mobile network on its own and has repeatedly broken assurances to the Federal Communications Commission about deployment of its spectrum," James argued.
The trial is set to begin on October 7, but the state AGs have been working to push that date back so that they can review settlement documents.
During T-Mobile's Q2 2019 earnings call today, CEO John Legere said that T-Mo continues to be willing to engage with state AGs, including those in the aforementioned lawsuit. Legere added that T-Mobile and Sprint expect to receive final federal regulatory approval for their merger in Q3 2019, and they anticipate that the merger will be permitted to close in the second half of 2019.
Sources: Justice Department, T-Mobile, Dish Network