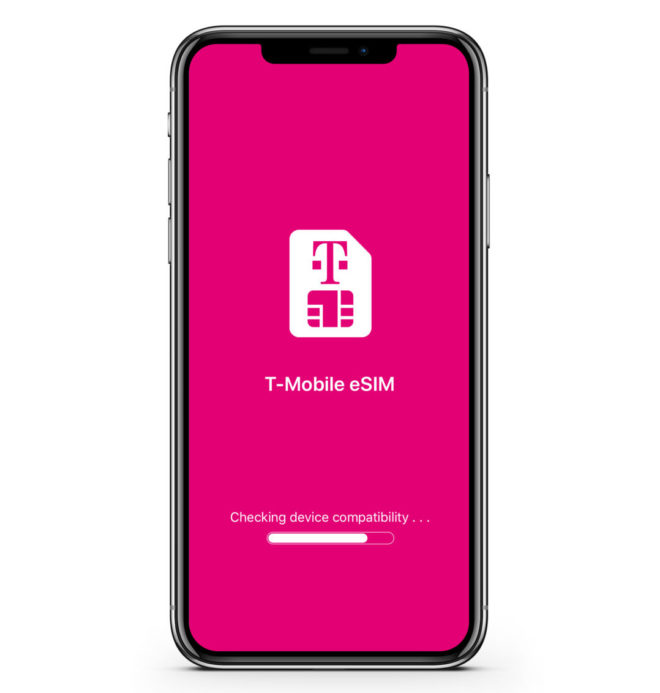 T-Mobile launched eSIM support at the end of last year, but so far support has been limited to the iPhone XS, XS Max, and XR on prepaid service. The T-Mobile-Sprint merger could help to greatly expand T-Mo's support of eSIM, though.
The Department of Justice is requiring T-Mobile and Dish to support eSIM as part of its approval of T-Mo and Sprint's merger. This will make it easier for Dish to attract new customers, the DOJ explains, and help grow competition in the market.
Here's the DOJ's full statement on eSIM, courtesy of The Verge:
"The remedy also facilitates consumers' ability to easily switch between wireless providers by requiring the new T-Mobile and the new Dish service to support eSIM, electronic SIM, technology. This requirement will make it easier for Dish to attract new subscribers, help extend the competition in this market, and will provide a platform for new innovative options.

Sadly in the United States, eSIM has not been widely adopted in mobile wireless like it is in Europe and others. And that's an area separate of this merger we have looked to. This will revolutionize the use eSIMs in hopefully all carriers, because once consumers have it, they'll benefit from it."
eSIM does have some support in the U.S., including from AT&T and Verizon in addition to T-Mobile, but it's nowhere near widespread adoption quite yet. The DOJ appears to be hoping that by requiring T-Mobile and Dish to support eSIM, other carriers will be pressured into expanding their eSIM support, too.
We don't really have any details about the DOJ's requirement on T-Mobile and Dish's eSIM adoption, so it's tough to know exactly what effect this is going to have on T-Mo, Dish, and the other carriers. It is encouraging because it could result in eSIM becoming more widespread in the U.S. eSIM has several benefits, such as consumers not having to worry about handling tiny plastic cards when they changes phones or wireless service, while device makers would no longer need a SIM card tray taking up space in their phone design.
Source: The Verge