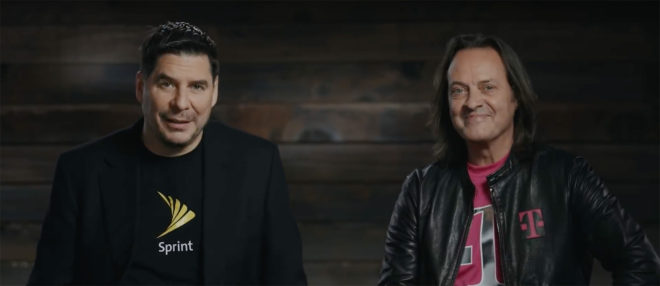 Following rumors that Department of Justice staffers have told T-Mobile and Sprint that their merger is unlikely to get approval as it's currently structured, several T-Mo and Sprint executives paid a visit to Washington D.C. to argue why the deal should be approved.
T-Mobile CEO John Legere, T-Mobile COO Mike Sievert, T-Mobile CTO Neville Ray, Sprint executive chairman Marcelo Claure, and other execs met with FCC commissioner Jessica Rosenworcel last week to present their case in favor of the merger. One of the focuses of the presentation was price, with T-Mo and Sprint saying that if they're allowed to combine, they'll "focus on taking share from Verizon and AT&T through lower prices." T-Mo also pointed to Verizon's $10 extra charge for 5G, saying that it won't charge customers extra to use its 5G service.
Another focus of the presentation was network coverage. T-Mobile claims its 5G coverage will be "broad and thin" in 2024 because of "limited spectrum depth on 600MHz" with uncovered POPs at 1.4 percent, while Sprint's will be "deep but narrow" and "constrained" with uncovered POPs at 41 percent because of "limited 2.5GHz propagation characteristics." If T-Mobile and Sprint are allowed to merge, though, they'll have a "broad and deep" 5G network with uncovered POPs at 1 percent and more consumers with access to speeds greater than 100Mbps.
T-Mobile went on to cover many of the same talking points it's used when promoting the merger in the past. It claims that the New T-Mobile will boost in-home broadband competition using its 5G network and that "massive capacity increases" will bring a "steep reduction" in the price per gigabyte of data.
Prepaid consumers will benefit also benefit from the merger, says T-Mo, because Boost Mobile and Virgin Mobile customers will see improvements in coverage and performance and customers of other prepaid carriers will see lower prices as providers "increase investment and enhance services to respond to New T-Mobile's prepaid offerings."
Meanwhile, a source speaking to Reuters says that T-Mobile CEO John Legere met last week with Makan Delrahim, head of the DOJ's antitrust division. The report claims that the DOJ is likely to make a decision on the merger by early June. The FCC is also reviewing the merger and is on day 141 of its 180-day shot clock of the review.