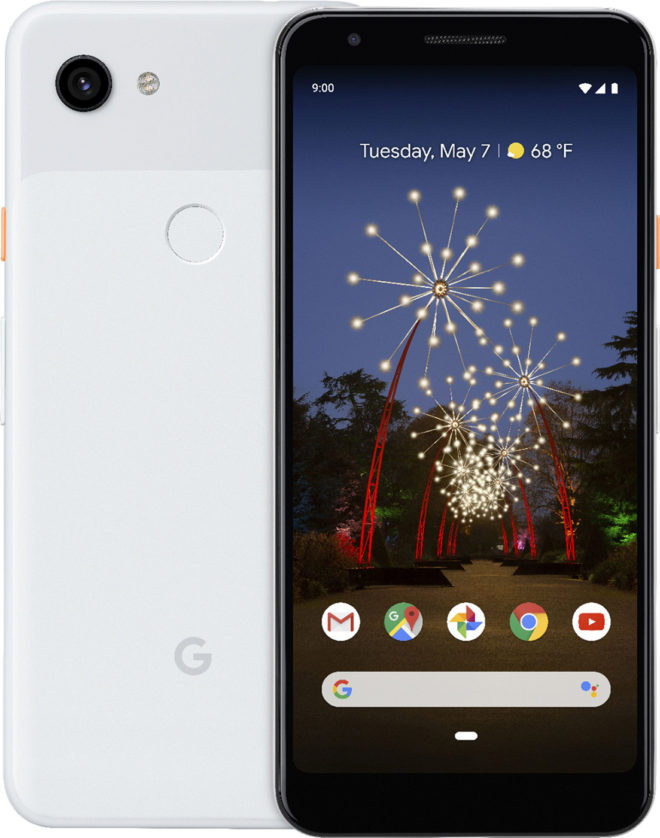 Google may be planning to announce the Pixel 3a and Pixel 3a XL on May 7th, but before it does, the rumor mill is giving us a good look at one of the devices.
A new image has leaked today that offers a clear look at the Google Pixel 3a. Shared by Evan Blass, we can see bezels above and below the display and a single front-facing camera rather than the dual front camera setup found on the regular Pixel 3. The back of the phone looks similar to the Pixel 3, offering a single rear camera, a fingerprint reader, and Google branding.
Rumors specs for the Pixel 3a include a 5.6-inch 2220×1080 screen, 8MP front and 12MP rear cameras, and 64GB of built-in storage. We're also told to expect a Snapdragon 670 processor, 4GB of RAM, and a 3000mAh battery. Google is said to be including the Active Edge squeezable sides and Titan M security chip that it put in the Pixel 3, and it's also rumored that the Pixel 3a will have a 3.5mm headphone jack, something that the Pixel 3 lacks.
A recent report claimed that T-Mobile will sell the Pixel 3a and Pixel 3a XL as well as the standard Pixel 3 and Pixel 3 XL. That's notable because so far, Verizon has been the only U.S. carrier to sell Google's Pixel phones. Because many people still buy their phones from their carrier, a T-Mobile launch would make Google's Pixel phones an option for lots of folks who would prefer to get their new device on EIP.
Now that we're getting a good look at the Pixel 3a, what do you think of it? Are you considering buying one if it comes to T-Mobile?
Google Pixel 3a pic.twitter.com/WFb1bfvlK9

— Evan Blass (@evleaks) April 24, 2019