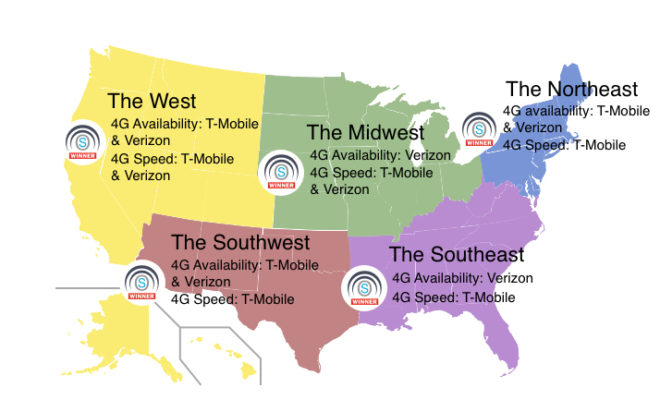 Earlier this year, T-Mobile came out on top in an OpenSignal report on U.S. mobile networks, but Verizon wasn't far behind in second. Now OpenSignal has decided to take a closer look the competition.
In the latest OpenSignal report, T-Mobile and Verizon duked it out for 4G LTE availability and speeds. T-Mo managed to beat or tie Verizon when it comes to 4G speed in all five regions of the U.S. — the West, the Southwest, the Midwest, the Northeast, and the Southeast — while tying Verizon or coming in second with regard to 4G availability in all five regions.
Looking closer at the numbers, we can see that T-Mo posted the fastest average LTE download speed in all regions but the West. There it was beat by Verizon by just 0.4Mbps, 17.6Mbps vs 18Mbps, which is close enough for OpenSignal to consider it to be a statistical tie.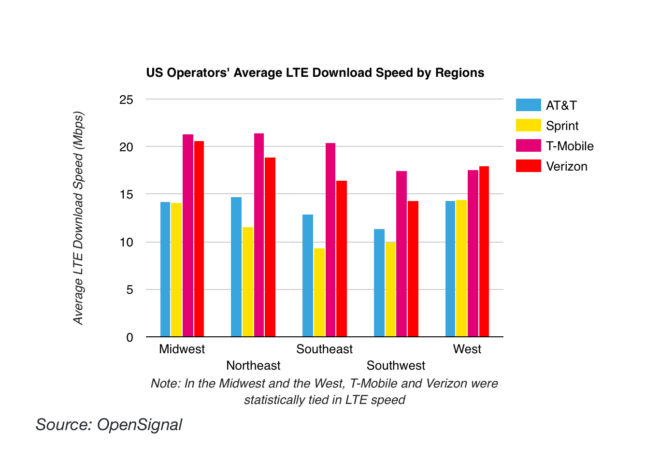 OpenSignal also notes that while Verizon has recovered from the LTE speed hit it took when it introduced unlimited data plans last year, T-Mobile has steadily increased its speeds and put itself in a lead over Verizon.
This report is good news for Neville Ray and Co., who have been working to build out T-Mobile's 4G LTE network in recent years. That network will continue to improve for a while to come as T-Mo does things like roll out mid-band upgrades to cell sites and help broadcasters to repack 600MHz spectrum more quickly.
You can check out OpenSignal's full report at the link below.
Source: OpenSignal