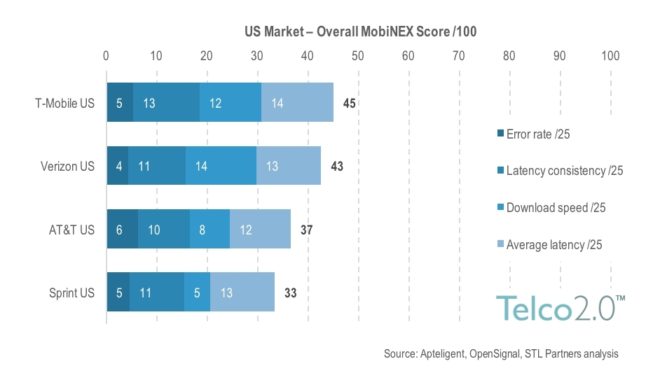 A new report has come out that suggests that T-Mobile has the best network of the big four US carriers. Unfortunately, T-Mo doesn't rank quite as high in comparison to the other global operators included in the report.
Apteligent and research firm STL Partners have put together a report called the Mobile Network Customer Experience Index, which aims to measure the "app experience" for wireless users based on four metrics: Error Rate, Latency Consistency, Download Speed, and Average Latency.
The top three carriers in the report were Bouygues Telecom, Free, and Orange, all in France, which scored 76, 73, and 70 out of 100. Scrolling down the list we see O2 in the UK, Rogers in Canada, Vodafone in Italy, Deutsche Telekom in Germany, and more. Past the middle is T-Mobile with a score of 45 out of 100, followed by Verizon with 43, AT&T with 37, and Sprint with 33.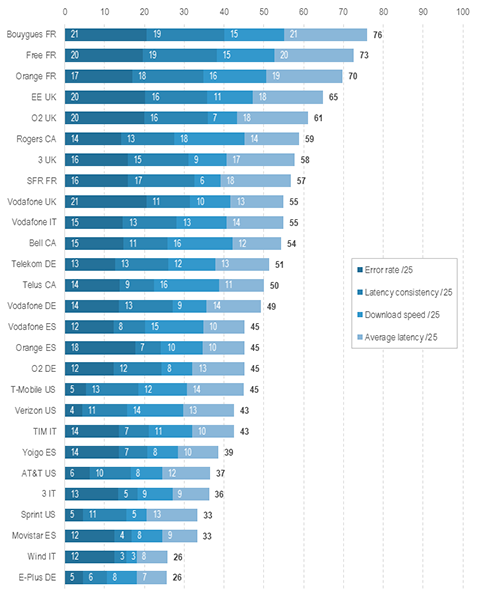 T-Mobile's Error Rate score was 5 out of 25, one of the lowest in the report, with AT&T getting a 6, Sprint a 5, and Verizon a 4. The Error Rate was measured by looking at the number of requests made with an app that experience an error. The report says that the low Error Rate scores posted by US carriers is surprising given the presence of LTE and Amazon and Google data centers in the US, but it also concedes that an error isn't always the fault of a carrier, as it could also be an app coding issue or some other problem.
Moving on to Latency Consistency, which measures the proportion of requests made with an app that experience latency greater than 500ms. T-Mo scored a 13 out of 25 here, while Verizon and Sprint got 11 each and AT&T got 10.
Then there's Download Speed, which is the average speed achieved by customers downloading app instructions and content. Here T-Mo got a 12, Verizon a 14, AT&T an 8 and Sprint a 5.
Finally, the Average Latency is measuring the average time that it takes for a customer to perform an action on their device and then get a response. T-Mobile scored a 14 out of 25 in this category, with Sprint and Verizon scoring 13 and AT&T getting a 12.
We regularly see T-Mobile or Verizon win awards for their network performance in US-focused studies, and they've once again topped AT&T and Sprint in this newest report. However, their scores all took quite a hit in the Error Rate portion of this study. The report does mention that errors aren't always the fault of the carrier, though, so the US carriers may not be totally to blame for their low Error Rate scores in this report.
More details of this report can be seen here.
Via: Reddit, FierceWireless
Source: Mobile Network Customer Experience Index