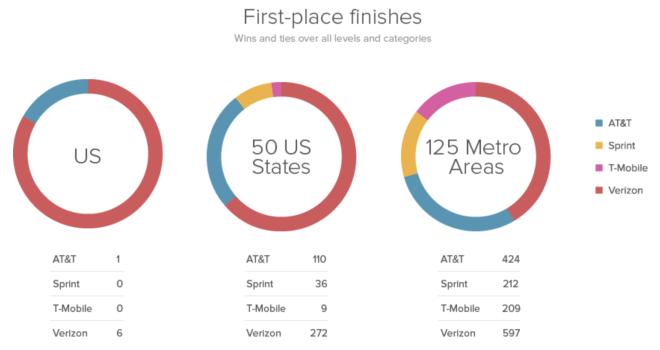 A couple of weeks after T-Mobile won the most awards in an OpenSignal network study, a new report has surfaced that puts T-Mo in the opposite position.
RootMetrics has published its Mobile Network Performance in the US study for the second half of 2015. Its results show T-Mobile finishing with an overall network performance score of 80.9 out of 100. To compare, Verizon won out with a score or 94.5, AT&T finished at 91.3, and Sprint earned a score of 86.0. Verizon ended up winning five of the six main categories — overall performance, network reliability, network speed, data performance, and call performance — and Verizon and AT&T tied in the text performance category.
Looking at T-Mobile specifically, Magenta won fewer Metro Area RootScore awards this time around, finishing with 209 outright and shared wins compared to the 221 it earned in the first half of 2015. T-Mo performed best in the data categories, with 16 outright wins for network speed and 14 wins for data. T-Mobile's fastest median download speed was 44.9Mbps in Lansing, Mich., and its slowest was 2.2Mbps in McAllen, Texas.
T-Mo also improved in the Text RootScore Award category, growing by nearly 30 awards from Q1. It didn't fare quite as well in Network Reliability and Overall RootScore, though, which RootMetrics says is "primarily because of additional blocked calls." T-Mo's Call RootScore Award count fell from 48 in the first half of 2015 to 19 in the second half of the year.

T-Mobile has taken issue with RootMetrics testing in the past, with CEO John Legere saying that the testers "can't keep up" with how quickly T-Mo is improving its network. RootMetrics does note in its report that T-Mobile's data speed improvements "correlate to the network's slightly improved LTE coverage in this round of testing" and that "this improved LTE coverage in metro areas may be due to T-Mobile's rollout of 700MHz spectrum." RootMetrics does say that the devices it used for its second half 2015 testing were T-Mobile 700MHz compatible.
T-Mobile has also taken issue with the fact that RootMetrics doesn't measure Voice over LTE calls in its study. John Legere revealed during today's Q4 2015 earnings call that 50 percent of T-Mo's voice calls are done over VoLTE, so that would have an impact on T-Mobile's calling performance. The good news for T-Mobile is that RootMetrics will default to VoLTE for T-Mobile testing in the first half of 2016.
RootMetrics' second half 2015 report was put together using 3.85 million tests conducted while driving 231,941 miles. The company says that it follows a scientific methodology with its testing, "unlike subjective surveys or summaries that rely exclusively on random crowdsourced data." T-Mobile has done well in recent crowdsourced reports, winning the most awards in an OpenSignal network comparison and earning the title of "Fastest Mobile Network" from Speedtest.net app maker Ookla. Considering all of that, I'd be willing to bet that John Legere and T-Mobile have something to say about RootMetrics' latest report in the coming days.
Source: RootMetrics