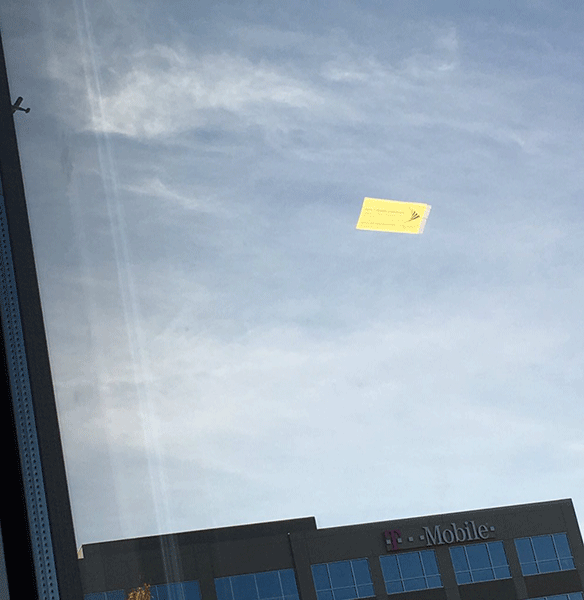 Remember last month when T-Mobile took to the skies above the headquarters of the other major US carriers to urge them to abolish overages? Well Sprint just pulled a similar stunt.
Sprint today used an airplane to fly a banner over T-Mobile's headquarters in Bellevue, Wash., and presumably it was promoting its new half-off promotion. I say presumably because the people on the ground had a difficult time reading the banner, too. You can see a couple of Twitter users telling Sprint that their banner was illegible.
.@sprint—this would be much more effective if it were legible. @JohnLegere—these guys need some marketing lessons! pic.twitter.com/ziY0Fl97Zh

— Ben Greif (@bgreif6) November 20, 2015
Er @sprint if ur going 2 fly a plane around the TMUS campus get a bigger banner so we can read it? #beentheredonethat @JohnLegere

— Serena (@SGlossey) November 20, 2015
T-Mobile eventually took to Twitter to respond to the promo, telling Sprint "let us know if you want to borrow the rest of our marketing guidebook to copy."
.@sprint Cute plane! Let us know if you want to borrow the rest of our marketing guidebook to copy. pic.twitter.com/o4OqYSo9IC — T-Mobile (@TMobile) November 20, 2015
T-Mobile flew its planes over its competitors' headquarters about a month ago, so Sprint had to know that it'd catch some flak for its stunt. It's still getting people to talk about Sprint and its new promotion, though, and the saying goes that "any press is good press." Still, you have to imagine that it'd be tough to get folks in and around T-Mobile's headquarters to jump from the ship Magenta.
The people at T-Mobile's headquarters aren't the only ones that Sprint is marketing its promo to. There are also trucks driving around, including one truck that was parked in front of a T-Mobile store in Chicago.
.@TMobile Thanks for the offer, but we like our offer better…and so will your customers! https://t.co/TDOZQWzwjX pic.twitter.com/k0sp9i5aFM

— Sprint (@sprint) November 20, 2015