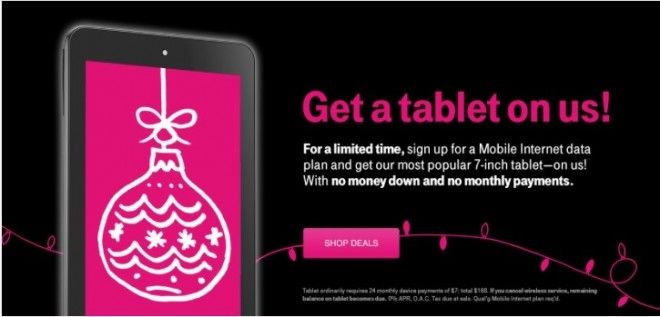 A few days back, we posted news on the Black Friday deals announced by T-Mobile on its Holiday Deals page. Among them were discounts on the Samsung Galaxy S5, Xperia Z3 and LG G3. As a reminder, here are the discounts on handsets already mentioned:
However, there is more than that revealed in the full Adscan, published over at GottaDeal.com.
Among the deals not mentioned previously are the following:
ZTE ZMAX – $48 off with code ZMAXPROMO
Free shipping on orders over $20
T-Mobile highlights $0 down on the iPhone 6, iPhone 6 Plus, Galaxy Note 4, Galaxy Note Edge and Galaxy Note 3. As well as the iPad Air 2, iPad mini 3, Alcatel Onetouch Pop 7, Galaxy Tab 4 8.0, Samsung Gear S, first generation iPad Air and iPad mini with Retina (iPad mini 2).
There's also a section dedicated to bundles, including:
Save $44 when you buy the Galaxy S5 and Galaxy Note 10.1 (2014) – including two free SIM Starter Kits (normally $10 each).
Buy 4 LG Optimus L90 and save $80 – $10 per handset, plus four free SIM Starter Kits.
Save $68 when buying two Galaxy S5's – $24 discounts on each, plus two free SIM Starter Kits.
Buy a black Galaxy S5 S-View case cover, an anti-fingerprint screen protector (2-pack) and a universal micro USB car charger and get 30% off
Another page highlights the discount on T-Mobile's new wearable data plan when you purchase it alongside a smartphone on Simple Choice. Something which T-Mo announced when the Gear S went on sale.
Select accessories will be subject to 25% discount when you use the promo code ACC25GIFT.
Many of the latter pages essentially just point you to some of the cool accessories T-Mobile sells. Things like the Moto 360, Samsung Gear Fit, JBL Micro Wireless Portable Speaker and the Beats Solo 2 headphones, among others.
All these deals join the aforementioned handset discounts, the free Alcatel Tablet offer and generous accessory discounts heading our way for the holiday season. All in all, it should make for a pleasant shopping experience with T-Mobile.
We're also expecting further discounts to be announced on Sunday night, ready in time for Monday.
Check out the full Adscan here, or T-Mobile's holiday deals page here.
And of course, if you spot anymore elsewhere that could suit the T-Mo fan elite, share them in the comments below.