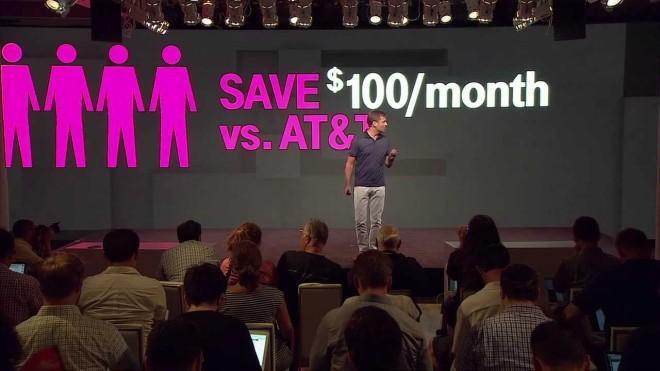 T-Mobile's targeting of AT&T inside their marketing campaigns has certainly brought plenty of attention and T-Mobile's Chief Marketing Officer Mike Sievert explained why  at an Investor conference earlier this morning. Sievert explained that T-Mobile focuses its attention on AT&T because it has the largest group of dissatisfied customers:
"They combine two things: being big and being bad."
While Sprint may be a more vulnerable target with continued quarterly subscriber losses, both Sievert and T-Mobile Chief Technology Officer Neville Ray want the company's attention on T-Mobile. Ray notes that AT&T has made it easy for customers to move away from the carrier to T-Mobile because they can use their existing devices. AT&T CEO Randall Stephenson acknowledged that his company is feeling some pressure on the "price-sensitive" customer segment and Sievert agrees. In fact, Sievert believes that the "price-sensitive" part of AT&T's customer base includes 90% of their total customer base and provides T-Mobile an opportunity to grab both high and low-end customers.
"We're positioning ourselves as a champion of change in an industry that needs change," he said. "We're taking credit for that."
As for a possible Sprint merger, T-Mobile CFO Braxton Carter hinted that a merger between the third and fourth place carriers wouldn't necessarily be a horrible idea. Carter wouldn't confirm or deny if T-Mobile and Sprint were having discussions, but called a potential merger a "logical ultimate combination."
Carter explained that "We think it's not a question of if but when there's further consolidation in our industry." Carter noted that regulatory agencies might make a merger between the two carriers difficult in light of their want to have four national carriers, a reason for striking down the proposed AT&T buyout of T-Mobile.
Carter suggested that because AT&T and Verizon have the lions share of the US customer base and are a "duopoly," a stronger third carrier would "create a more competitive environment."
As for a response to Verizon CEO Lowell McAdam comments yesterday speaking at the same investor conference that unlimited data plans are not sustainable, T-Mobile's Sievert disagrees. "We have an unlimited offering, but it's not the reason for our being," he said. Sievert did suggest that Sprint has bet the farm on unlimited data and that he doesn't want T-Mobile to be stuck in that same place. Sievert stated that T-Mobile would stick with unlimited data, but suggested there were opportunities to make money off the increased need for data down the road.
"A competitor bet the farm on unlimited, and that's all it is," he said. "We're not stuck…as the unlimited carrier. That's a bad place to be."
That's a lot to take in from T-Mobile's executive group attending this investors conference and certainly the Sprint comments are the most disconcerting. However, the idea that a T-Mobile and Sprint merger would be easy technologically or quickly pass multiple through regulatory agencies should offer a little piece of mind that any deal could be some time away, if ever.