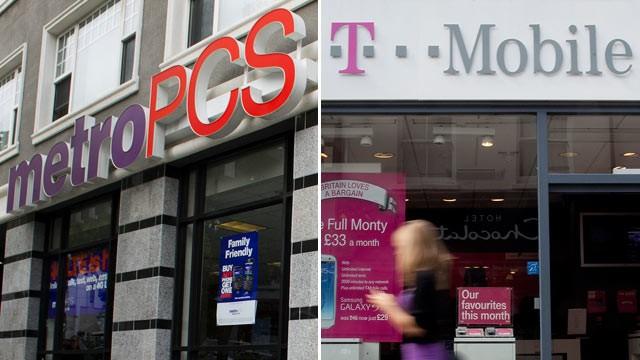 A preliminary proxy statement filed with the FCC last week by MetroPCS is yielding all sorts of interesting info on their proposed deal with T-Mobile. In fact, the most notable piece of information might be the date talks began, just two days after the deal with AT&T fell apart. That means that Deutsche Telekom and MetroPCS began discussions on December 21st of 2011.
Also contained in the filing is a list of companies that pursued a merger/acquisition of MetroPCS before the announced deal with T-Mobile. This includes Dish Network, which attempted to buy the company for $4 billion or $11 a share, to be paid in 30% cash and 70% stock. Dish was referred only as "Company C" in the filing and determined to be Dish Network by people "familiar with the matter." According to the filing, talks with Dish fell apart in August.
Meanwhile, another company that came close to picking up MetroPCS was Sprint, which was said to still have interest in acquiring MetroPCS right up until the deal with T-Mobile was announced. Sprint's interest in MetroPCS was continuing even as they were working on their own deal to sell a 70% stake in the company to SoftBank Corp.
Furthermore, the filing highlights that MetroPCS came close to being acquired by "Company G" in late February, but the deal was put down by the proposed company's board. Accordingly, several news outlets reported in late February that Sprint CEO Dan Hesse spearheaded a deal to grab MetroPCS and was shut down by his company's board even while offering a 30% premium over MetroPCS' share value. When Sprint execs learned that a deal with T-Mobile was close, they reportedly expressed hope that "any break-up fee payable by MetroPCS to pursue an alternative transaction would be reasonable." Sprint hoped their influx of new capital from Softbank would allow them to grab MetroPCS a second time around.
As for moves MetroPCS took on its own, it worked to purchase different chunks of spectrum from satellite companies on two separate occasions back in early 2011. Neither of those deals obviously came to fruition. The filing also indicates that MetroPCS attempted to purchase spectrum from another wireless carrier, only identified as "Company E," but that company later sold spectrum to another party.
The proxy statement highlights that as recent as mid-September, MetroPCS and T-Mobile USA were still working on the fine print of their deal, including how the executive teams would look for the merged company. Deutsche Telekom told MetroPCS executives during the second week of September that they had hired a new CEO for T-Mobile and wanted him to the CEO of the new company, leaving Braxton Carter, the current MetroPCS CFO to become CFO of the combined company. That would allow Roger Lindquist, the current MetroPCS CEO to be non-executive chairman of the new board.