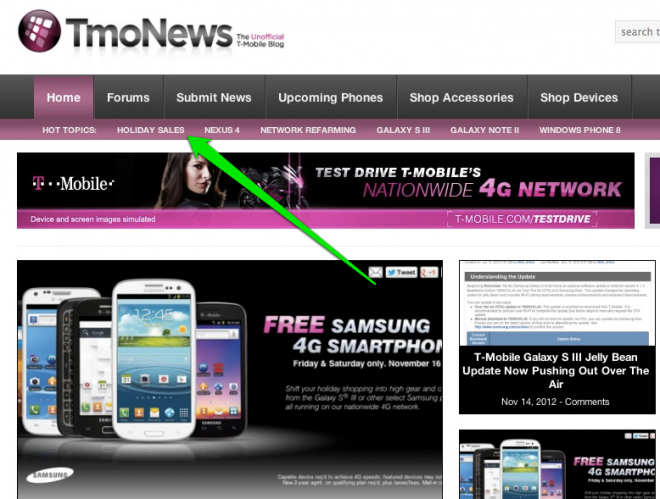 In an effort to keep you all in the loop with the best T-Mobile sales during the course of the holidays and specifically for this week and Black Friday I've added a special Hot Topic. The 'Holiday Sales' hot topic will give you one click access to Black Friday sales and T-Mobile deals throughout the holiday season.
I'll add new blog posts as deals come out which will also appear on the main page, but can easily be found all in one place using the 'Holiday Sales' hot topic. All T-Mobile sales in one place? Why, I think that's a great idea.
First up are the Black Friday deals for Walmart and Target, along with some extended deals from Target that will run throughout the season. These include two different ways to score Google Play $50 credits which includes the purchase of a Galaxy S III or a purchase of a T-Mobile Android device. We're not sure if the two gift-cards can be stacked, but hey, it's worth trying! As for Walmart, they're matching the same deal they ran last year with a $100 gift card for the purchase of any smartphone, regardless of carrier.
Keep an eye on this page as we'll add more deals as we learn about them!
For the moment, we're not sure what kind of deals T-Mobile itself will be running this week, but we'll get something up on the blog the moment we do.
Walmart:
SIII for $129 with $100 gift card, SII for $79 with $100 gift card
November 23rd – Dec 1st, $100 gift card with all smartphone sales
WP8X: $148
Note II: $299
Lumia 810: $79.88
L9: $0.97
Target:
Google Play Promotion: $50 credit on GSIII across all carriers, 11/18-12/29
Google Play Promotion: $50 credit on all Tmo Android devices 11/25-12/29
One S: $49.99 and GSIII $79.99 from 11/18-12/24
GSII: $19.99 from 11/23-11/24
Blaze 4G: $9.99 11/25 – 12/1
One S: $69.99 from 11/25 – 12/1
Target opens at midnight Black Friday, Mobile will be staffed