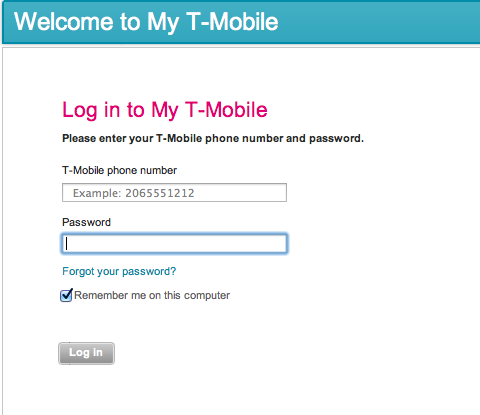 Update: It took almost no time to at all to get a handle on this situation and we've updated the post with an internal statement from T-Mobile below. See the full internal statement below. 
Thanks to your comments, emails and Tweets it seems that a number of T-Mobile customers are unable to login to their My T-Mobile page. Early word is that the troubles are due to an overwhelming number of people trying to take advantage of the Samsung two-day sale. I hope that T-Mobile is hard at work on a fix as many of you are reporting that you have been unable to take advantage of this deal due to the inability to log into your account.
If the Samsung two-day sale is the cause, I sincerely hope T-Mobile considers pushing the sale into a third day to make sure that everyone who wanted to take advantage of this offer is able to do so.
Are you unable to login? How long have you been unable to do?
Updated T-Mobile Statement Sent To Employees: 

November 17 Free 4G Samsung Smartphone Sale System Changes

To relieve stress on current T-Mobile systems, we will be disabling three system applications we believe are not business critical during the Free 4G Samsung Smartphone Sale on Saturday, November 17

Based on lessons learned from the promotion execution yesterday, the T-Mobile Applications Support teams have identified three applications that contributed to excess stress on existing T-Mobile systems..These systems will be disabled today during today's promotion hours:

MyAccount (Customer facing Handset access)
My T-Mobile (Customer-facing Web access)
QuikView Offers (Employee facing system)

These applications will not be available for customers or employees during the entire business day on November 17.  Due to these changes, we can anticipate heavier traffic into our Retail, Branded, and RPS locations.

Note: While these changes are designed to improve performance, systems may be susceptible to periodic slowness due to high customer traffic.

Action Steps

Ensure all working employees are aware that these three key applications will be disabled.
Ensure all employees understand these changes apply only the remainder of the promotional period and only today, November 17.
For customer inquiries and concerns about these temporary changes:

o    Advise and inform customers of the changes when presented with questions.

o    Apologize and sympathize for any inconveniences these changes may have caused them.

o    Explain to customers that the functionality will return on Sunday November 18.

o    Encourage customers to use My Account and My T-Mobile in the future.

Additional Details

Disabling MyAccount will not allow customers the ability to check details of their plan (e.g., minute usage).
Disabling My T-Mobile will not allow customers to make changes to their account via the Web (e.g., changing rate plans).
Disabling QuikView will not allow T-Mobile employees the opportunity to present QuikView offers to customers on all transactions.
The Gold button for QuikView Offers will be grayed-out upon being disabled.