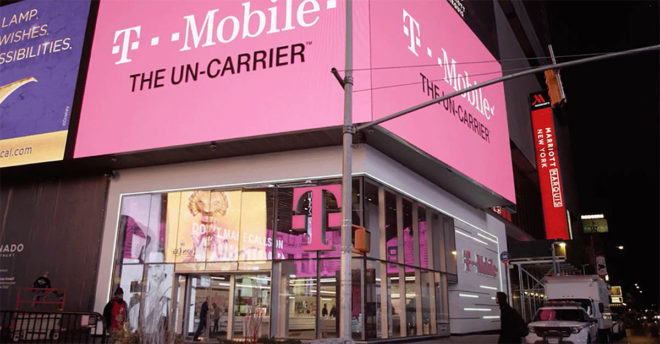 One month after teasing its Q4 2019 earnings, T-Mobile today unveiled its complete report for the final quarter of last year.
T-Mobile added 1.86 million customers in the fourth quarter of 2019, bringing it up to a total of 86.0 million customers. That marks the 27th straight quarter that T-Mobile added more than 1 million customers.
Of that 1.9 million, there were 1.3 million postpaid subscribers and 77,000 postpaid adds.
For the full year of 2019, T-Mobile added 7.0 million customers, 4.5 million of which were postpaid and while 339,000 were prepaid. That means 2019 was the sixth year in a row that T-Mobile added more than 5 million customers.
T-Mobile reports that it pulled in record service revenues of $8.7 billion for the quarter, up 6% year-over-year. Total revenues of $11.9 billion were a record, too, while net income for the quarter was $751 million, up 17% year-over-year.
On the network side of things, T-Mo reports that its 600MHz LTE network is live in nearly 8,900 cities in 49 states and Puerto Rico and that it covers 248 million people. Combining 600MHz and 700MHz, T-Mobile has 316 million people covered with low-band LTE. And in total, T-Mobile's 4G LTE network covers 327 million people.
T-Mo says that at the end of Q4 2019, it owned a nationwide average of 31MHz of 600MHz spectrum, with that number growing to 41MHz when you factor in 700MHz as well. At the end of the year, T-Mobile had cleared 275 million POPs of 600MHz spectrum, with its remaining spectrum to be cleared in 2020.
We also got an update on T-Mobile's network capacity growth. "Due to industry spectrum limitations (especially in mid-band), T-Mobile continues to make efforts to expand its capacity and increase the quality of its network through the re-farming of existing spectrum and implementation of new technologies including Voice over LTE ('VoLTE'), Carrier Aggregation, 4×4 multiple-input and multiple-output ('MIMO'), 256 Quadrature Amplitude Modulation ('QAM') and License Assisted Access ('LAA')".
T-Mobile reports that it in Q4 2019 it had carrier aggregation live in 969 markets, up from 956 in Q3 2019. 4×4 MIMO availability grew to 708 markets in Q4 2019, up from 683 markets in Q3 2019. And the trifecta of carrier aggregation, 4×4 MIMO, and 256 QAM is available in 701 markets, up from 674 in Q3 2019.
Also of note is that LAA is available in 30 cities. Those include Atlanta, Austin, Chicago, Denver, Houston, Los Angeles, Las Vegas, Los Angeles, Miami, New Orleans, New York, Philadelphia, Sacramento, San Diego, Seattle, and Washington D.C.
Source: T-Mobile