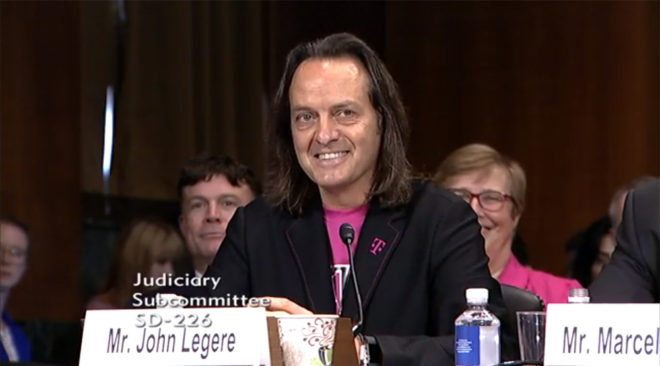 Next month, John Legere and Marcelo Claure will once again testify in front of a subcommittee regarding the merger of T-Mobile and Sprint.
The House Committee on Energy & Commerce and House Judiciary Committee will hold a joint hearing on the T-Mobile-Sprint merger on February 13. The complete list of hearing participants is still being confirmed, but both T-Mobile CEO John Legere and Sprint Executive Chairman Marcelo Claure have agreed to testify. This is the second time the execs have testified regarding the merger, after appearing in front of a Senate antitrust subcommittee in June 2018.
The hearing is meant to examine the T-Mobile-Sprint merger's potential impacts on consumers, workers, and the wireless industry as a whole. It was announced by Energy and Commerce Chairman Frank Pallone, Jr. (D-NJ), Judiciary Chairman Jerrold Nadler (D-NY), Energy and Commerce Subcommittee on Communications and Technology Chairman Mike Doyle (D-PA) and Judiciary Subcommittee on Antitrust, Commercial and Administrative Law Chairman David N. Cicilline (D-RI).
Here's what Pallone, Nadler, Doyle, and Cicilline had to say about the hearing:
"A merger between T-Mobile and Sprint would combine two of the four largest wireless carriers and the carriers with the largest numbers of low-income customers. As the Committees with oversight of the Federal Communications Commission and Department of Justice, we must hold this hearing to examine the effects on important issues like jobs, costs to consumers, innovation and competition. We look forward to examining this merger from the perspective of what is in the best interest of consumers and hardworking people."
T-Mobile and Sprint have said that they expect their merger to be completed in the first half of 2019. The deal has received approval from the Committee on Foreign Investment in the United States and was cleared of any national security, law enforcement, or public safety issues by the U.S. Department of Justice, Department of Homeland Security, and Department of Defense. The merger is still being reviewed by the FCC and must be cleared of antitrust issues by the DoJ.