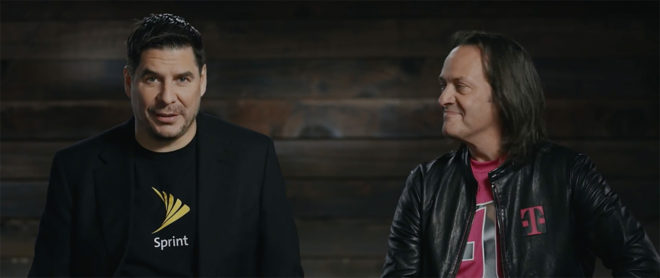 Following a report that the proposed merger of T-Mobile and Sprint had been approved by a U.S. security committee, the two carriers have confirmed the news.
T-Mobile and Sprint announced tonight that their merger has been approved by the Committee on Foreign Investment in the United States (CFIUS). The deal has also been okayed by Team Telecom, which consists of the U.S. Department of Justice, Department of Homeland Security, and Department of Defense and reviewed the merger for any possible national security, law enforcement, or public safety issues.
"These approvals assure the strong partnership both companies have with the U.S. government will continue with the New T-Mobile," said T-Mobile CEO John Legere. "We look forward to continuing our discussions with the remaining regulatory agencies reviewing our transaction to share our story and subsequently achieve similar positive results."
Recent rumors claimed that Deutsche Telecom and SoftBank, T-Mo and Sprint's parent companies, had said they would stop using Huawei networking equipment in order to help the merger win approval from CFIUS. Some U.S. government officials have concerns that Huawei's network equipment could be used to for Chinese spying, but Huawei has denied that its equipment has any kind of back doors. Neither T-Mobile nor Sprint made any mention of Huawei in their announcements tonight.
Getting approval from CFIUS and Team Telecom means that the T-Mobile-Sprint merger has cleared a couple of hurdles on the way to completion, but it's still got a few more to go. Those include getting the green light from the FCC and earning antitrust approval from the Justice Department. The deal is also facing opposition from groups like the 4Competition Coalition, a group of companies that includes Dish, C Spire, and the Rural Wireless Association.
T-Mobile and Sprint expect their merger to close in the first half of 2019.
Source: T-Mobile