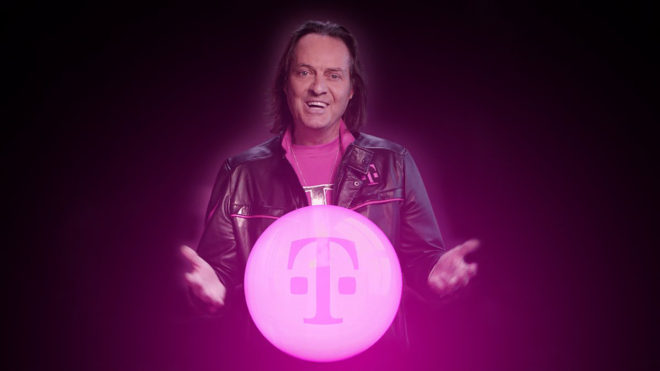 For the past several years, John Legere has taken time at the end of the year to lay out his predictions for the coming new year. Today he's done it again, predicting some of the things he thinks we'll see in 2019.
As you might expect from Legere, several of his predictions take shots at T-Mobile's competition. He suggests that Verizon won't show a 5G coverage map by the end of 2019 and that AT&T will have more "5G BS". The T-Mo CEO is referencing the news that AT&T will soon show a "5G E" network indicator on some Android devices when connected to its 5G Evolution network, which is 4G LTE that uses network technologies like 4×4 MIMO, 256 QAM, and three-channel carrier aggregation to boost speeds.
When it comes to T-Mobile, Legere predicts that we'll see live 5G and that his carrier "will continue to be the only company with a real plan for nationwide 5G".
Legere goes on to take a couple more shots at Verizon, making predictions that Verizon will sell its Oath subsidiary of digital media and that Verizon Communications CEO Hans Vestberg will launch a cooking show called "SlowER Cooker Sunday".
The T-Mobile CEO made some cable-related predictions today, too, like that T-Mobile will "start to take on the Cableopoly on all fronts — TV AND broadband", which seems to confirm the rumors that T-Mobile's TV service has been delayed to 2019. He thinks that competition will cause major cable companies will lose business and that Comcast and Charter will struggle as a result of new TV and broadband competition and that they'll hit customers with "hidden fees and deceptive billing".
Rounding out Legere's predictions is a claim that at least one other major brand will adopt T-Mobile's Team of Experts customer support feature that launched earlier this year.
Of course, Legere also made it a point to mention T-Mobile's proposed merger of Sprint, saying that he's "optimistic" that regulators will finish their review of the deal. T-Mo and Sprint have previously said that they expect their merger to close in the first half of 2019.
Do you have any predictions for 2019? What would you like to see happen in the new year?
Source: T-Mobile