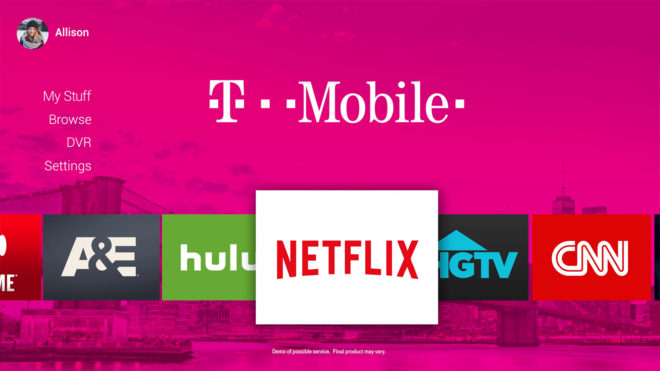 When T-Mobile announced its acquisition of Layer3 TV one year ago, the carrier said that it would launch a new TV streaming service in 2018. Now 2018 is nearly over and there's still no new T-Mobile TV service to be found, though, and so T-Mo may have pushed the launch to 2019.
T-Mobile has delayed the launch of its streaming TV service, according to a report from Bloomberg. It's said that T-Mo executives had to decide whether they wanted to launch a streaming TV service that would be similar to existing services and allow customers to watch cable channels and other shows online or wait until 2019 and deliver something more unique. It appears that they chose the latter option.
T-Mo declined to comment on this rumor.
When T-Mobile acquired Layer3 TV in late 2017, CEO John Legere said that his company planned to "fix the pain points and bring real choice to consumers across the country." T-Mo said very little about the service throughout 2018, though some T-Mobile stores across the U.S. sold Layer3 TV service, perhaps as a way to test out its pricing strategy. We also caught a glimpse of a T-Mobile-branded set-top box in the FCC, but it didn't reveal much about the service itself.
With less than two weeks to go in 2018 and no sign of a TV service launch from T-Mobile, this news doesn't come as a huge surprise. Now it looks like we'll have to wait until sometime in 2019 to see what T-Mobile has cooked up for its streaming TV offering. What do you want to see from it?
Source: Bloomberg