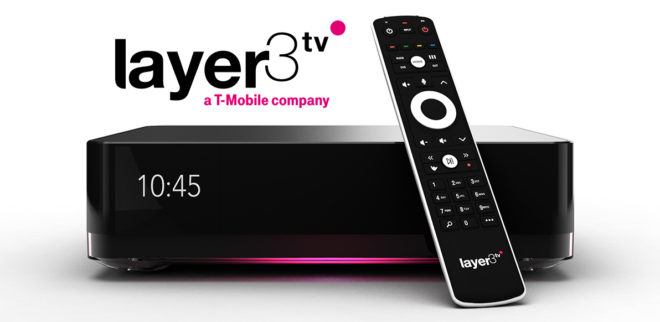 T-Mobile announced earlier this year that it planned to launch a new pay TV service in 2018, and while we still haven't heard anything about it, T-Mo is now selling Layer3 TV service in select markets.
T-Mobile stores in markets like Dallas, Chicago, Washington, D.C., and Longmont, CO are offering Layer3 TV service. Research firm Wave7 research found a Dallas-based T-Mobile rep tweeting that she had made a Layer3 TV sale on September 1st, while a T-Mo rep in Longmont said on September 5th that pricing was regularly $99.99 per month but dropped to $79.99 for T-Mobile subscribers, plus equipment and taxes and $10 for additional TVs. That Platinum allHD package includes more than 275 channels, DVR, and on-demand 4K content.
Looking at the Layer3 TV website, the pricing for service appears to vary by market. While the price in Dallas and Longmonth is $80 for T-Mobile customers and $99.99 for non-T-Mo subscribers, folks in Washington D.C. must pay $120 per month if they're not a T-Mobile customer, while those that are on T-Mobile pay $80. The savings for T-Mo customers are applied in bill credits.
It sounds like T-Mobile is testing out its pricing strategy for Layer3 TV, trying to figure out a sweet spot price that would be appealing to most consumers. T-Mo hasn't revealed much about it's upcoming pay TV service, only teasing that it wants to disrupt the cable and satellite TV industry and that its TV offering will utilize its nationwide retail stores.
Does a TV service that offers more than 275 channels, on-demand 4K content, and DVR for $80 per month sound appealing to you?
Thanks, Marcus!
Source: FierceVideo