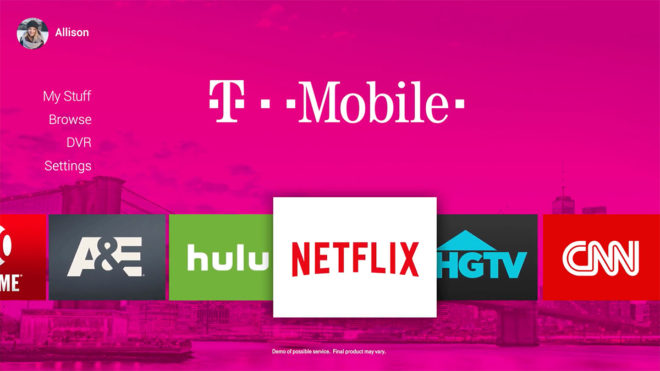 The announcement that T-Mobile teased yesterday has now been made, and it's a big one.
T-Mobile has announced that it's acquiring Layer3 TV as part of an effort to distrupt the cable and satellite TV industry. The deal is expected to close in the coming weeks, and T-Mo says that it aims to launch its new pay TV service in 2018.
Layer3 TV was founded in 2013 with the goal of being a better cable TV provider. The service offers a combination of traditional cable TV channels alongside online video all in a single interface, making it easy to find what you want to watch.
Details on T-Mobile's upcoming TV offering are still light, but T-Mo does have a brief demo of what a T-Mobile TV service might look like. The video shows T-Mo's TV service running on televisions, tablets, and smartphones. T-Mobile does say that its TV offering will utilize its nationwide retail stores as well as its sales and customer care organizations.
Here's what T-Mobile CEO John Legere had to say about today's announcement:
"People love their TV, but they hate their TV providers. And worse, they have no real choice but to simply take it – the crappy customer service, clunky technology and outrageous bills loaded with fees! That's where we come in. We're gonna fix the pain points and bring real choice to consumers across the country. It only makes sense for the Un-carrier to do to TV what we're doing to wireless: change it for good! Personally, I can't wait to start fighting for consumers here!"
And here's Layer3 TV CEO Jeff Binder:
"No market needs Un-carrier-ing more than pay TV, so we're completely stoked to join T-Mobile in disrupting the status quo. Together with T-Mobile, we're going to ditch everything you hate about cable and make everything you love about TV better."
Right now we know very little about T-Mobile's upcoming TV service, so it's tough to have much of an opinion about the service itself. T-Mobile has had a major impact on the wireless industry in recent years, though, making its own Un-carrier moves and getting the competition to change, too. It'll be interesting to see if T-Mobile can replicate that success in the TV business.
What would T-Mobile's TV service need to offer to get you interested?
Source: T-Mobile