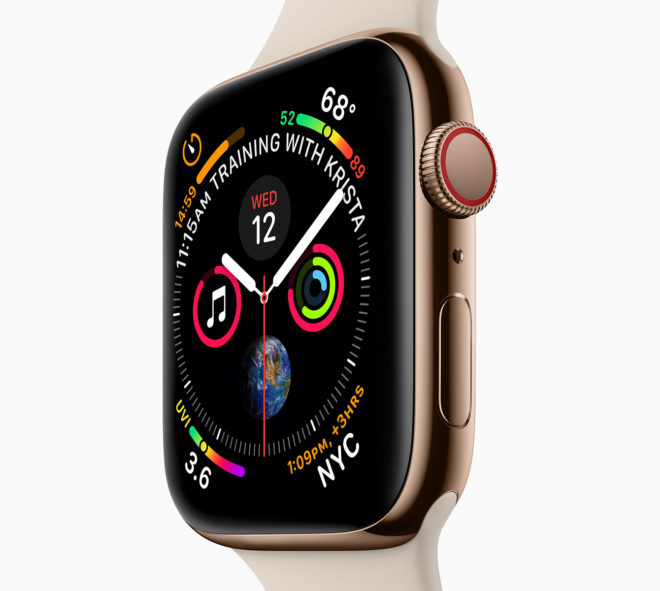 Apple's big event was held today in California, and the first new device to debut is an updated Apple Watch.
The Apple Watch Series 4 is now official. One of the major upgrades included with the display, which is now more than 30 percent larger than previous generations and enables new watch faces with more complications. Apple did this by pushing the screen farther out to the edges of the front of the device and has rounded. Apple has made the cases of the new Apple Watch larger, too, bumping them to 40mm and 44mm, up from the 38mm and 42mm sizes found in previous generations.
Apple has made some upgrades to the other parts of the Apple Watch Series 4 case, too. The Digital Crown now has haptic feedback to give a more clicky feel, and the microphone has been moved to the opposite side of the speaker to prevent echo. The new Apple Watch has an updated backside, too, allowing the device to transmit radio waves from the front and the back which should give you better cellular reception.
Inside the Apple Watch Series 4 is a new 64-bit dual-core S4 processor, which Apple claims offers up to 2x faster performance. There's a new accelerometer and gyroscope inside the Apple Watch Series 4, too, which can help the device to detect falls. Updated heart-related features are included in the new Apple Watch as well, such as giving you an alert when your heart rate is low, detecting an irregular heart rate rhythm that could be suggestive of atrial fibrilliation, and the ability to take an electrocardiogram.
When it comes to battery life, Apple touts that the new Apple Watch Series 4 will get the same 18-hour battery life as previous models. Outdoor GPS workouts are now rated to last up to six hours.
One other notable detail that'll be exciting to anyone already in the Apple Watch ecosystem: the new Apple Watch Series 4 will work with all existing Apple Watch bands, despite their larger cases.
Apple Watch Series 4 will be available in Silver, Gold, and Space Gray color options. Pricing starts at $399 for the GPS model, with the GPS + Cellular model starting at $499. In its event, Apple confirmed that T-Mobile is one of the carriers that'll offer the Apple Watch Series 4.
You can order an Apple Watch Series 4 starting this Friday, September 14th, and the new smartwatch will launch on September 21st. T-Mobile will begin taking pre-orders at 12:01 am PT on September 14th.
Source: Apple