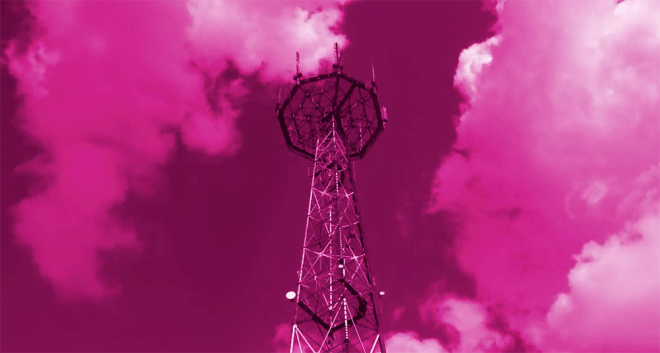 Earlier this year, T-Mobile tied for the most awards in OpenSignal's State of Mobile Networks: USA report. Now the latest report shows T-Mo winning 'em all.
OpenSignal today published the August 2017 edition of its State of Mobile Networks: USA report, showing how all four major U.S. carriers performed when tested by consumers using OpenSignal's apps. T-Mobile won out in all six categories: 4G Download Speed, 3G Download Speed, Overall Download Speed, 4G Latency, 3G Latency, and 4G Availability.
In its report, OpenSignal notes that T-Mobile became the first U.S. carrier to surpass 90 percent 4G availability, squeaking ahead of Verizon and its 89.8 percent 4G availability. This metric measures the proportion of time that a user can connect to the 4G LTE network.

T-Mobile came out well ahead in 4G download speeds, finishing with an average LTE speed of 17.45Mbps. Verizon came in second with 14.91Mbps, AT&T in third with 12.92Mbps, and Sprint in fourth with 9.76Mbps. The Overall Speed results are similar, with T-Mobile finishing with an average of 16.07Mbps, ahead of the other three carriers.
OpenSignal also notes that Verizon and AT&T's average 4G LTE speeds have dropped since the previous report in February, with Verizon dropping from 16.9Mbps to 14.9Mbps and AT&T slipping from 13.9Mbps to 12.9Mbps.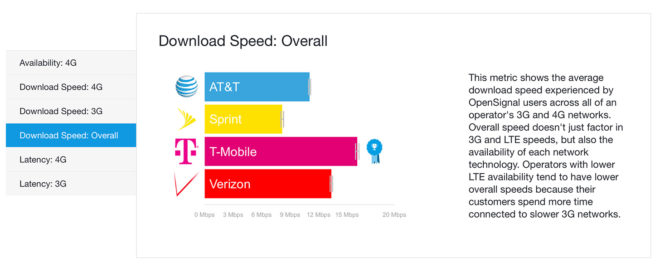 Finally, OpenSignal says that while T-Mobile won out in all award categories, it's locked into a close network battle with Verizon. In 32 major U.S. cities, T-Mo or Verizon were ranked highest or were tied in 4G speed and 4G availability. For example, Verizon had the best 4G speeds in six markets and shared that title in 24 cities, while T-Mobile won in four markets and tied in 25 others.
This OpenSignal report is based on 5.07 billion datapoint collected from 172,919 users between March 31, 2017 and June 29, 2017. The data was gathered from OpenSignal's apps for Android and iOS. For a closer look at all of the data, hit the link below.
Source: OpenSignal