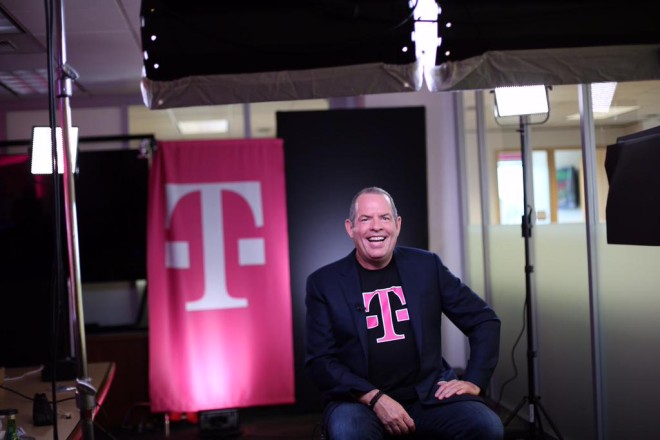 There's been lots of speculation regarding a Sprint-T-Mobile merger lately, including news that Sprint and SoftBank have started informal talks about a deal with T-Mo parent company Deutsche Telekom. Now T-Mobile itself has chimed in on the matter.
During an investors conference earlier today, T-Mobile CFO Braxton Carter said that he expects merger talks to happen now that the FCC's 600MHz auction and its quiet period have ended. "It's not a question of will talks happen; of course they'll happen," he said.
Carter went on to say that Sprint makes for a logical partner for T-Mobile thanks to their "precarious financial position" and their collection of 2.5GHz spectrum. He went on to explain:
"Sprint has a treasure trove of 2.5 spectrum. Granted, not all of it's the same; part of it has a little bit of hair on it. But that is still a treasure trove that you could do amazing things with. And the synergy comes from putting these two networks together, and having the densification necessary to ubiquitously deploy that 2.5. Sprint's doing that city by city now. And that will take them a decade with that type of strategy."
T-Mobile COO Mike Sievert also touched on a potential merger, saying that there could "absolutely" be an advantage by striking a deal, but that T-Mobile will only pursue a deal if it can improve shareholder value and keep business performing well. Sievert also suggested that cable companies could end up kicking the tires on a deal involving T-Mo.
So basically, we're in the same spot that we've been in, with all parties interested in talking about a deal but nothing concrete being formed. It's no surprise that T-Mobile would be interested in striking a deal for Sprint given its supply of spectrum, but considering how well T-Mobile has been doing in recent years, it's not under any pressure to get a deal done in a hurry or anything like that. For now we'll just have to wait and see how this situation plays out.
Sources: FierceWireless, Bloomberg