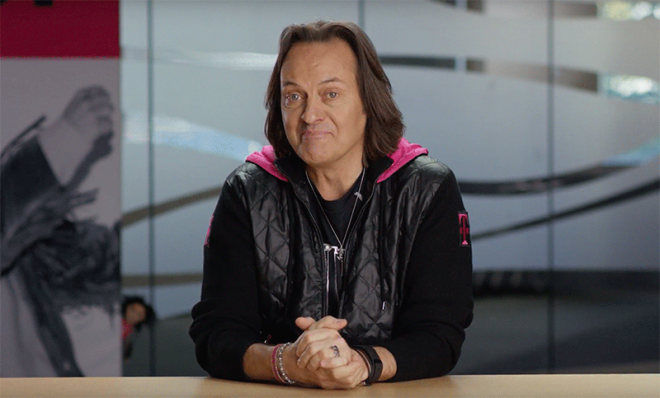 Following today's Un-carrier Next announcement, T-Mobile CEO John Legere took some questions from the media. And unsurprisingly, a question about Sprint came up.
Legere was asked about the possibilities of a merger with SoftBank and Sprint with President Donald Trump and a new FCC. According to The Verge, T-Mobile's CEO didn't come out and say definitively yes or no to a T-Mobile-Sprint merger, but he did say that it was a possible outcome under the new administration.
"Sprint themselves is like an exploding plan. They're making progress but they pretty clearly have a ways to go," Legere said of his competitor. "So in the future structure of the industry, there are a number of people who think, well, it may make sense from a scale standpoint to consider the coming together of T-Mobile and Sprint."
Legere went on to say T-Mobile has many ways to increase shareholder value and that as we enter 2017, T-Mobile's brand is strong. He then added, "We will consider continued strong individual growth as a company or various forms of consolidation around our brand and platform of growth. And so that you pretty clearly have to say that is one of many potential future outcomes of the industry structure."
Rumors of a Sprint acquisition of T-Mobile were swirling in 2013, but late in 2014 it was reported that Sprint had backed off its attempt to buy T-Mobile because it didn't think that such a merger would get regulatory approval. Many have suggested that President Trump's administration may be friendlier to such a deal, though.
Sprint and T-Mobile are in different positions now than they were in 2014, with T-Mobile surpassing Sprint to become the No. 3 carrier in the US and continuing to grow each quarter. Some folks think that a combined T-Mobile-Sprint would make for better competition with AT&T and Verizon, though, and the CEOs of both Sprint and SoftBank have expressed interest in merging with T-Mo.
We'll just have to wait and see what happens.
Source: The Verge