Un-carrier Next is official.
T-Mobile CEO John Legere today took to the CES 2017 stage to reveal the next Un-carrier move, which includes three main points. First up, T-Mobile wants to help simplify your bill by building taxes and fees into the price that it advertises for its plans.
As an example, the T-Mobile One plan with a single line will cost $70 flat, rather than $70 plus additional taxes and fees added to your bill.
We typically see this type of simplified pricing with prepaid carriers, but most postpaid customers pay for their rate plan and then a bunch of other taxes and fees added onto their monthly bill. This can be frustrating, as the monthly cellphone bill can end up costing quite a bit more than anticipated. T-Mobile is aiming to end this customer pain point by including the taxes and fees with the T-Mobile One plan.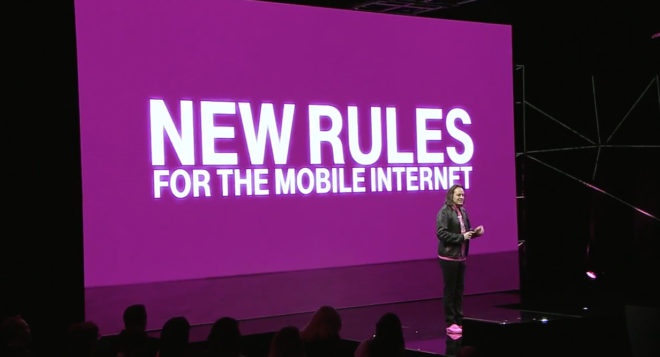 T-Mobile today also announced KickBack. With this feature, T-Mobile will refund you for data that you don't use. If you use 2GB or less in a month, T-Mobile will give you up to $10 in bill credit on next month's bill for the qualifying line.
And then there's the Un-contract. With this feature, T-Mobile promises that T-Mobile One customers will keep their plan pricing until they decide to change it. T-Mo will never change the price that you currently pay for your T-Mobile One plan.
T-Mobile today also announced a new promo offering a "second tax rebate." Starting tomorrow, January 6, consumers can get $150 per line for every line that you switch to T-Mobile One. This promo will be good for a limited time and will be available for up to 12 lines.
Finally, T-Mobile confirmed that as of January 22, it will only offer T-Mobile One to new postpaid customers. Existing customers can keep their plans after that date. Customers that want to take advantage of the new all-in taxes feature of Un-carrier Next will need to switch to the new T-Mobile One plan. T-Mobile One customers that want KickBack will need to opt-in through the T-Mobile app or T-Mobile account website.
Source: T-Mobile