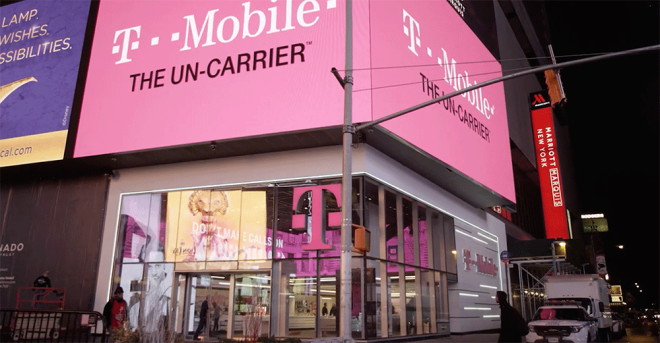 UPDATE: T-Mobile CEO John Legere teased that a new Un-carrier move will be announced before T-Mo's next earnings call. T-Mobile's Q4 2015 earnings were announced in mid-February, so the next Un-carrier move could come sometime before mid-February 2016.
T-Mo also said today that there will be multiple devices with 4×4 MIMO support released in 2017. 
After previewing its Q3 2016 results last month, T-Mobile today released its full third quarter earnings report.
T-Mobile added 2 million new customers in the third quarter of 2016, including 851,000 branded postpaid phone adds. Postpaid phone adds were up from Q2 2016, when T-Mobile had 646,000 postpaid phone adds. T-Mo attributes that growth to the launches of T-Mobile One and the iPhone 7 as well as prepaid customers moving to postpaid.
T-Mobile's postpaid churn for Q3 2016 was 1.32 percent, up from 1.27 percent in Q2 2016 but down from 1.46 percent in Q3 2015.
At the end of Q3 2016, T-Mobile had a total of 69.4 million customers.
Turning to financials, T-Mobile posted $7.1 billion in service revenues and $9.2 billion in total revenues, both of which were up year-over-year. T-Mobile's net income for Q3 2016 was $366 million, up from $138 million in Q3 2015.
T-Mobile today also gave an update on its network. T-Mo's 4G LTE service covers 312 million people, while Wideband LTE coverage is currently available to 231 million people.
Extended Range LTE (700MHz) is available to more than 225 million people, and T-Mo is building on that number by closing on transactions in Q3 with plans to close on more in Q4. Those deals will give T-Mobile another 47 million POPs of low-band 700MHz spectrum holdings. T-Mobile has previously said that it was acquiring 700MHz spectrum in cities like Chicago, Nashville, Salt Lake City, and Columbus.
Here's T-Mobile CEO John Legere on these Q3 2016 results:
"That's 14 quarters in a row that T-Mobile has won share from the competition. The Un-carrier is delivering. We took share and grew our customer base while producing both financial growth and shareholder value. Most importantly, we are delivering results for both customers and shareholders alike."
T-Mobile looks like it had itself a nice Q3 2016, posting growth in postpaid and prepaid customers, revenues, and lowering churn year-over-year. Meanwhile, T-Mo is closing 700MHz deals to gain more spectrum for its Extended Range LTE coverage, which is exciting news for existing customers, especially as the 600MHz auction continues its back-and-forth.
T-Mobile will hold a conference call to discuss its Q3 2016 earnings at 10:00 am ET today.
Source: T-Mobile