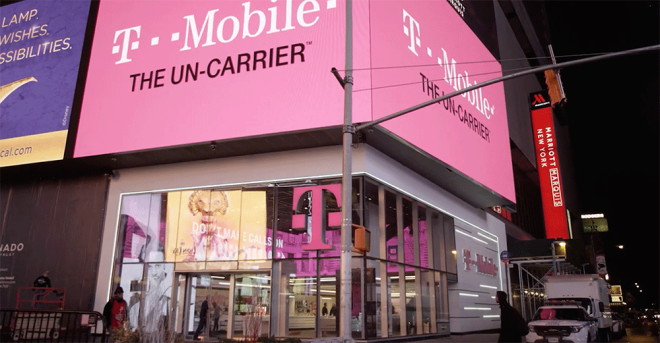 After sharing some early Q4 2015 results last month, T-Mobile today spilled all of the details of its end-of-year 2015 performance.
In the final months of 2015, T-Mobile added 2.06 million new customers. That includes 1.29 million postpaid subscribers and 469,000 prepaid customers. This makes Q4 2015 the 11th straight quarter that T-Mo has added more than 1 million customers and the third straight quarter that it added more than 2 million subs. The total number of customer adds for 2015 finished at 8.26 million, and T-Mobile ended the year with a total of 63.28 million customers.
Postpaid churn for the quarter finished at 1.46 percent, down from 1.73 percent in Q4 2014.
Flipping over to financials, T-Mo pulled in $8.25 billion in service revenue in Q4 2015, up from $8.15 billion in Q4 2015. Net income for the quarter was $297 million, up from $101 million in Q4 2014, while T-Mobile's total yearly income grew from $247 million in 2014 to $733 million in 2015.
Finally, T-Mobile today gave us an update on how its network is doing. T-Mo LTE reaches 305 million people, while its 700MHz Extended Range LTE coverage reaches 190 million people in more than 300 markets.
T-Mobile CEO John Legere was pretty pleased with today's results, saying:
"T-Mobile is #1 in postpaid phone growth, #1 in service revenue growth, #1 in Adjusted EBITDA growth, not to mention #1 in customer care and #1 in network speed. We set out to change this industry, we're well on our way and we won't stop."
Also included in today's release is the news that T-Mobile has acquired more 700MHz spectrum that covers around 48 million POPs. The spectrum was purchased from multiple groups and the deal was struck just this month. Unfortunately, those are all of the details that've been given so far, so it's unclear where in the US this 700MHz spectrum is located.
Looking ahead, T-Mobile says that it expects to add between 2.4 million and 3.4 million postpaid customers in 2016. That's a bit lower than the 4.5 million postpaid adds that T-Mobile saw in 2015.
As a reminder, T-Mobile will be live streaming its Q4 2015 earnings call that'll be kicking off at 8:30 am. T-Mo has even created a drinking game to go along with the call. To take part in the game, or just watch as John Legere and Co. discuss their Q4 2015 results live, check out the YouTube embed below.
Source: T-Mobile