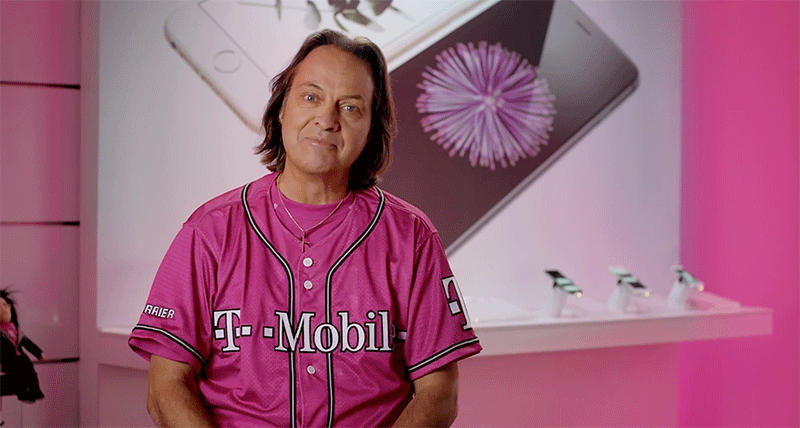 The numbers for T-Mobile's third quarter 2015 performance are in! T-Mo reports that it added 2.3 million customers in Q3 2015, making it the 10th straight quarter in which more than 1 million people joined the Magenta Army. Of that 2.3 million, 1.085 million were branded postpaid customers, which makes Q3 2015 the 5th straight quarter that T-Mobile added more than 1 million postpaid customers. Q3 2015 also brought with it 595,000 branded prepaid customers.
One other interesting tidbit related to customer adds is that since T-Mobile launched its first Un-carrier move 10 quarters ago, more than 18 million people have joined the Magenta network.
With the addition of 2.3 million customers in the quarter, T-Mobile finished Q3 2015 — which ended on September 30 — with 61.2 million customers total.
Turning to churn, T-Mo reports that its postpaid phone churn for Q3 2015 finished at 1.46 percent, down from 1.64 percent year-over-year but up slightly from the 1.32 percent churn rate it reported in Q2 2015.
At the end of the third quarter, there were 12.2 million customers enrolled in a JUMP! program, up from 8.0 million in Q3 2014. In addition to getting more folks to JUMP! in Q3 2015, T-Mobile moved more smartphones than it did in previous quarters. T-Mo reports that it sold 8.1 million smartphones in Q3 2015, up from 7.4 million in Q2 2015 and 6.9 million in Q3 2014.
T-Mobile reports that it pulled in $6.3 billion in service revenues for the quarter, up 11 percent year-over-year. Total revenue grew, too, gaining 7 percent year-over-year to finish at $7.8 billion.
Here's what John Legere had to say about T-Mobile's Q3 2015 performance:
"We've had 10 quarters in a row with over 1 million net new customers, 5 with over a million branded postpaid customers and a total of 2.3 million new customers this quarter alone. Our momentum is strong and our incredible customer growth is translating directly into solid financial growth which makes it crystal clear that putting customers first is just good business."
T-Mobile also gave an update on its network today. T-Mo LTE service covers more than 300 million people, meaning that Magenta reached its 2015 LTE coverage goal with a few months to spare. There's Wideband LTE in 245 markets, with that number expected to cross 260 markets by the end of 2015. Meanwhile, Extended Range LTE is now in 204 markets and is on track to cover more than 350 markets by the end of the year.
T-Mo will conduct an earnings call to discuss its results and take questions about its performance. The call will be held at 10:00 am ET today, and if you'd like to get a question in, you can do so by Tweeting at @TMobileIR and using $TMUS. You can also text your question by sending a text to 313131 and entering TMUS followed by a space.
Source: T-Mobile Investor