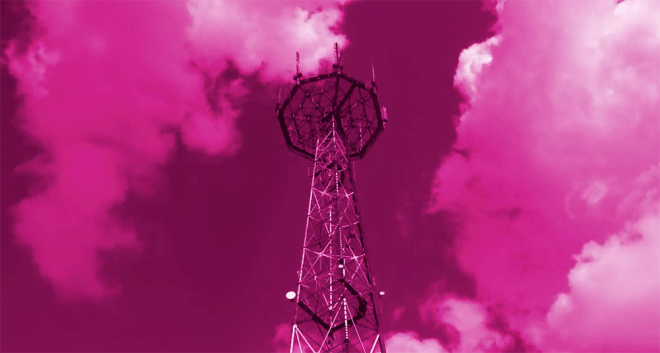 Earlier this week, FCC filings shed some light on the 700MHz license purchases that T-Mobile teased in its Q4 2015 earnings announcement. Now some additional info on those acquisitions has come out.
An SEC filing from T-Mobile has revealed that in January 2016, T-Mo dropped $0.6 billion on spectrum licenses that cover nearly 20 million people in seven major metropolitan markets. Then in January and February 2016, Magenta dropped a cool $0.7 billion on "certain spectrum licenses" and 700MHz A Block spectrum licenses that cover around 48 million people. That's the deal that T-Mo teased in its Q4 2015 earnings announcement earlier this month.
Here's T-Mobile's full statement on these spectrum deals:
"In January 2016, T-Mobile acquired spectrum licenses covering nearly 20 million people in seven major metropolitan markets for approximately $0.6 billion in cash.

"Additionally, in January and February 2016, T-Mobile entered into agreements with multiple third parties for the exchange of certain spectrum licenses and the acquisition of 700 MHz A-Block spectrum licenses covering approximately 48 million people, for approximately $0.7 billion in cash. In the first quarter of 2016, spectrum licenses to be exchanged of $0.2 billion will be transferred to held for sale and included in Other current assets. Non-cash gains are expected to be recognized upon closing of the exchange transactions, which are expected to occur in mid-2016, subject to regulatory approval and other customary closing conditions."
Meanwhile, spectrum tracking company Allnet Insights & Analytics has compiled a map that shows T-Mobile's current 700MHz holdings as well as the pending transactions that haven't yet been completed.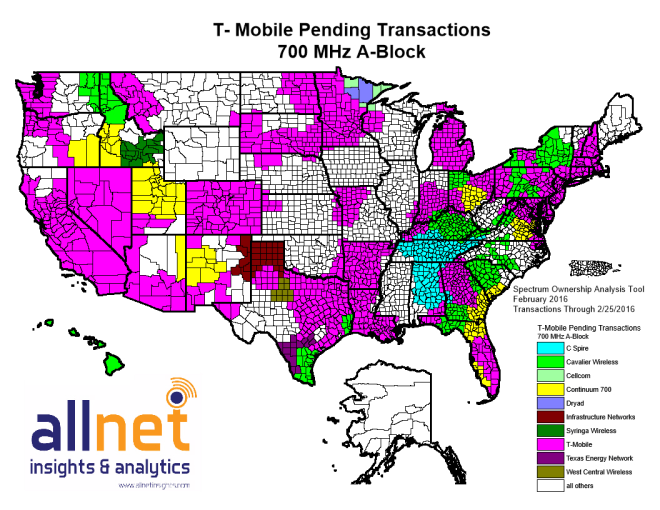 T-Mobile has been pushing its 700MHz, aka Extended Range LTE, coverage quite heavily as part of its effort to beef up its network's reach and improve the public's perception of its coverage. Earlier this month, T-Mo said that its 700MHz coverage reaches 190 million people in more than 300 markets, and the acquisitions detailed today show that T-Mo isn't slowing down with its Extended Range LTE expansion. It'll take some time before these acquisitions turn into coverage that consumers can actually use, but this map does give us an idea of where we can expect to see upcoming 700MHz coverage rolled out.
T-Mobile has also said that it plans to go hard in the upcoming 600MHz auction, with CFO Braxton Carter suggesting that T-Mo could have up to $10 billion to spend if it needs it. Magenta plans to use the auction to buy 600MHz licenses in parts of the country that aren't covered by 700MHz coverage as well as bolstering existing 700MHz coverage as necessary.
Sources: SEC, FierceWireless