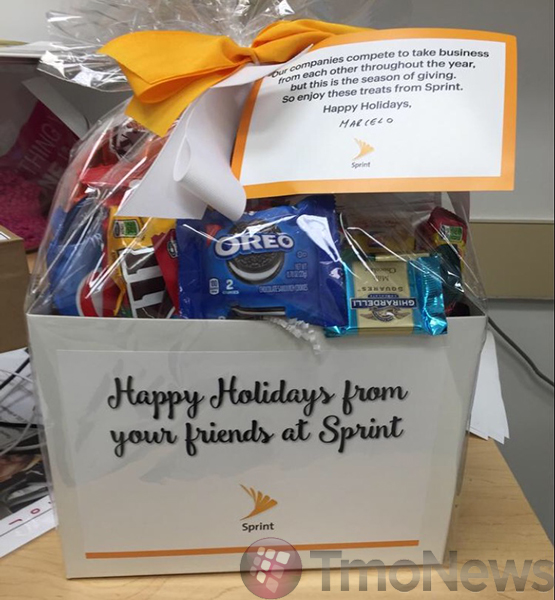 T-Mobile and Sprint have a pretty heated rivalry, with John Legere throwing jabs like "Sprint like hell" and accusing the number four carrier of "copying all the time" and Sprint advertising a recent promo by flying a banner over T-Mobile headquarters. The CEOs of the two carriers have even traded blows on Twitter. Today another chapter is being written in the story of Sprint and T-Mo.
Sources today shared photos that show Sprint-branded gift baskets that are said to have been sent to all T-Mobile stores. The front of the baskets include a message that reads "Happy Holidays from your friends at Sprint," and there's a card from Sprint CEO Marcelo Claure that says:
"Our companies compete to take business from each other throughout the year but this is the season of giving. So enjoy these treats from Sprint. Happy Holidays, Marcelo"
Flipping the gift basket around back reveals another message that appears to be aimed at converting T-Mobile employees to the Sprint camp. It reads "Let's Move Forward. Together." and it includes the URL for the Sales page of the Sprint Careers website.
There hasn't been much noise about these Sprint gift baskets, and a source says that that's because T-Mobile leadership has told stores to discard the baskets and avoid posting about them on social media. That's likely to avoid giving Sprint a bunch of news headlines for sending these gift baskets. Some store managers may have tossed out the food like they were instructed, which seems wasteful, especially this time of year, but at least one appears to have just let their hard-working employees dig in.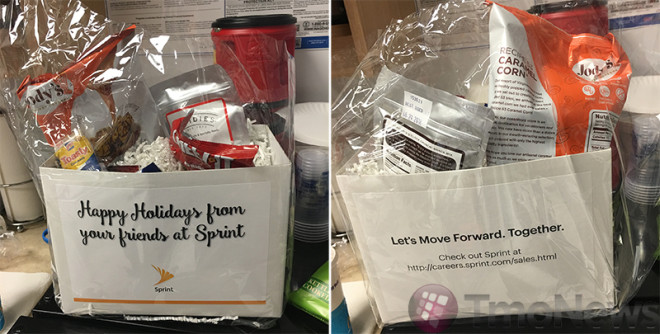 Thanks, sources!