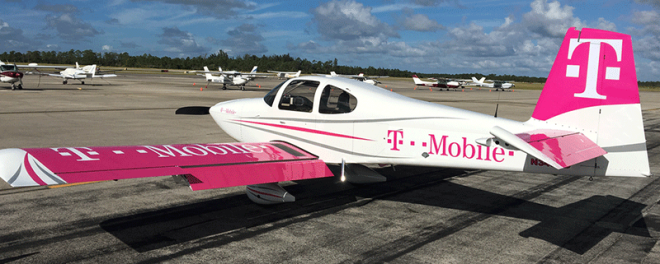 UPDATE 2: Here's an image of the message that T-Mobile wrote in the sky above Verizon's HQ: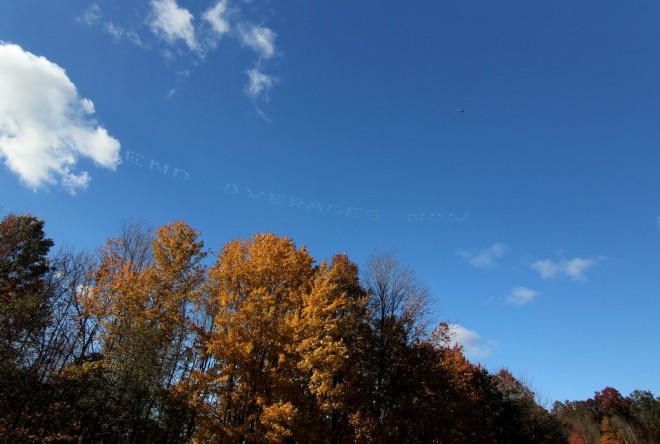 UPDATE: Jeffrey Nelson, VP of Communications for Verizon's consumer and enterprise businesses, has taken a shot at John Legere and his skywriting plan. Nelson just Tweeted "That time when your wireless company's CEO did a circus act to deflect the real problem: a lousy network that doesn't meet your expectations."
ORIGINAL: When John Legere's Change.org petition — the one urging the other major US carriers to drop overages — crossed its 250,000 signature goal earlier this year, T-Mobile's CEO promised that he'd "send a message that they won't be able to ignore." Today he's beginning to follow through on that promise.
Legere just Tweeted the image you see above, showing a small plane decked out in T-Mobile livery. He says that the plane is standing by in Basking Ridge, N.J., which is where Verizon's headquarters are located. Legere hasn't yet revealed exactly what his message to Verizon is going to be, but he promises that he's going to give his go-ahead soon.
.@TMobile is in #baskingridge to catch the message delivery. I'm going to give the team the go-ahead soon! #staytuned

— John Legere (@JohnLegere) October 26, 2015
When Legere's petition officially crossed its goal of 250,000 signatures back in August — it's at 330,025 as of this writing — he gave us the option to choose how he'd hit back at the other carriers and their overage-charging ways. The options included dropping a copy of the Change.org petition and its signatures on a build in AT&T, Verizon, or Sprint's home markets, skywriting a message above their headquarters, or building a live counter that'd display the amount of money that they've gained by charging overages. It looks like the skywriting message won out, and it's going to be interesting to see what messages Legere has for AT&T, Verizon, and Sprint.
The only downside to today's news is that it doesn't sound like Legere will be in the plane himself, meaning that we won't be getting any crazy mid-flight Periscopes.