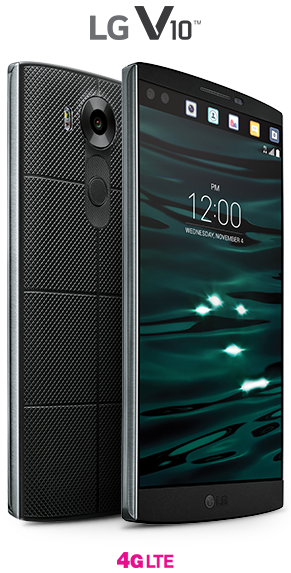 UPDATE: T-Mobile's LG V10 product page is live and confirms that band 12 LTE support is included. T-Mo has said that all band 12 LTE devices must support Voice over LTE (VoLTE), too, so the V10 ought to include VoLTE as well.
UPDATE 2: Two more things about the LG V10. First off, T-Mobile has said that it will only offer the LG V10 in black, like you see above.
Second, T-Mobile says that its customers can take advantage of the V10 promo that's being offered by LG, which AT&T mentioned in its V10 announcement. The promotion will give you a free 200GB microSD card, extra battery, and a batter charging cradle if you buy the V10 before November 15. The website for the promotion can be found here, but it doesn't seem to be loading for me quite yet.
ORIGINAL: After confirming plans to carry LG's dual-screened V10 earlier this month, T-Mobile has now revealed when we'll actually be able to get our mitts on the device.
The LG V10 will be available from T-Mobile.com starting Wednesday, October 28, with in-store availability to follow on Friday, October 30. Pricing for the V10 will be set at $0 down and 18 payments of $25 per month with JUMP! On Demand. At the end of those 18 months, you can either return the phone or pay it off and keep it.
If you'd prefer to buy the LG V10 on an installment plan that'll end with you keeping the phone, you'll be able to do so. The payment plan will include a $0 down payment and 24 monthly payments of $25 each. T-Mobile's full retail pricing for the LG V10 will be $599.99, which Magenta notes is $100 off the manufacturer's suggested retail price.
One of the main draws of the LG V10 is its dual-screen setup. There's the main 5.7-inch 2560×1440 display as well as a 2.1-inch 160×1040 screen above the main display. That secondary display can be used as an always-on screen to display info like time, date, weather, and battery life, and LG says that that'll use minimal battery. You can also use the secondary display for app shortcuts, music controls, and notifications.
The other big feature of the V10 are its cameras. The V10 actually has three cameras: two 5-megapixel shooters on the front that can enable 120-degree wide-angle selfies, and a third 16-megapixel camera around back. That rear camera has an f/1.8 aperture and all kinds of video features, including a Manual Video Mode that'll let you adjust things like frame rate, ISO, white balance, and focus. There's also a Multi-View Recording feature that'll capture video using all three of the V10's cameras.
Rounding out the V10's spec list is a hexa-core Snapdragon 808 processor, 4GB of RAM, 64GB of storage, a microSD slot for adding more storage, NFC, LTE, and a removable 3000mAh battery. LG has also ensured that the exterior of the V10 is as beefy as the interior, equipped it with a stainless steel frame and a Dura Skin bottom and rear cover for added durability and grip.
So now that we've got the pricing and availability info for the LG V10, who's buying?
Source: T-Mobile