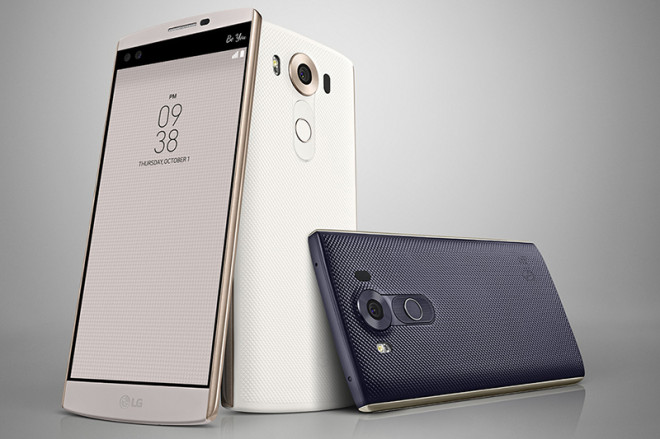 UPDATE: A couple of other LG V10 tidbits to note. First, T-Mobile's landing page for the V10 is live (thanks, Tracy!), letting you sign up to receive more info when its available.
Second, Des Smith has confirmed that the LG V10 will support band 12 and Wi-Fi Calling at launch. That's not entirely surprising since the V10 is a new, high-end phone being sold by T-Mobile itself, but it's still nice to have confirmation.
LG's got a big new Android smartphone, and it's coming to T-Mobile.
The LG V10 is officially coming to T-Mo's shelves. Neither LG nor Magenta have announced any launch or pricing details yet, but we do know about the V10's spec list, so let's start there. One of the most notable features of the V10 is its dual front displays. There's a 5.7-inch 2560×1440 main screen, and sitting above that its a 2.1-inch 160×1040 display. LG says that the secondary screen can be always-on and display time, date, weather, and battery life info. It can also show app shortcuts, music controls, and notifications when you're using all of the main display.
Another main feature of the LG V10 is its dual front camera setup. Both cameras are of the 5-megapixel variety. You can use just one of them to capture a standard 80-degree selfie, or you can use 'em both to capture a wide-angle 120-degree selfie. The V10's software will combine images taken with the two front cameras, which are placed just far apart enough to get two different points of view.
Finally, LG is really pushing the video capture features of the V10. There's a Multi-View Recording feature that'll let you capture different angles of a scene using all three cameras, a Steady Record feature that uses electronic image stabilization (EIS) to keep your video recording smooth, a Manual Video Mode for editing that offers options like frame rate, ISO, white balance, and focus, and a Wind Noise Filter to eliminate wind noise from outdoor video. Other video features include Audio Monitor, Quick Share, Quick Video Editor, Snap Video, and 15 Second Auto Edit, which'll create a short highlight video by eliminating blurred frames and static scenes from a clip.
In terms of raw specs, the LG V10's got a main 5.7-inch 2560×1440 display and a secondary 2.1-inch 160×1040 display. There are two 5-megapixel cameras on the front of the phone, and round back lives a 16-megapixel shooter with an f/1.8 aperture, fingerprint sensor, and LG's well-known rear-mounted volume and power buttons. Inside of the V10 lives a hexa-core Snapdragon 808 processor, 4GB of RAM, 64GB of storage, a microSD slot, NFC, LTE, and a 3000mAh removable battery. The V10's body includes a stainless steel frame and a Dura Skin bottom and rear cover for added durability. Plus, the back of the phone is textured to help improve your grip.
There's no question that the LG V10 is a unique phone thanks to its dual front cameras, dual displays, and its textured backside. Even if you're not super-interested in those features, though, it's still a high-end Android phablet that could be worth a look if big screens are your thing.